The Cota Origin Story.
We were recently asked by a journalist from a prominent magazine how the inventor first came up with the idea that formed the Cota technology. It's a good story!
Hatem Zeine is president, CTO and founder of Ossia, and he's also a physicist, technologist, and inventor, filing hundreds of patents in the past two decades. He is best known for inventing the RF-based wireless power transmission technology that has become Cota® Real Wireless Power™.
Many years ago, Hatem's disappointment in the speed and coverage of early Wi-Fi systems drove him to explore the limitations and opportunities with Wi-Fi. On paper, Wi-Fi was designed to work seamlessly with our environments, but the lack of targeting the Wi-Fi "client" device, meant it suffered from reflections, and signal loss of over distance. Hatem quickly put together a software simulator of the RF (Radio Frequency) signals and set about using his physics knowledge to use "Retro-Directivity" instead of the traditional engineering "beam forming" approaches.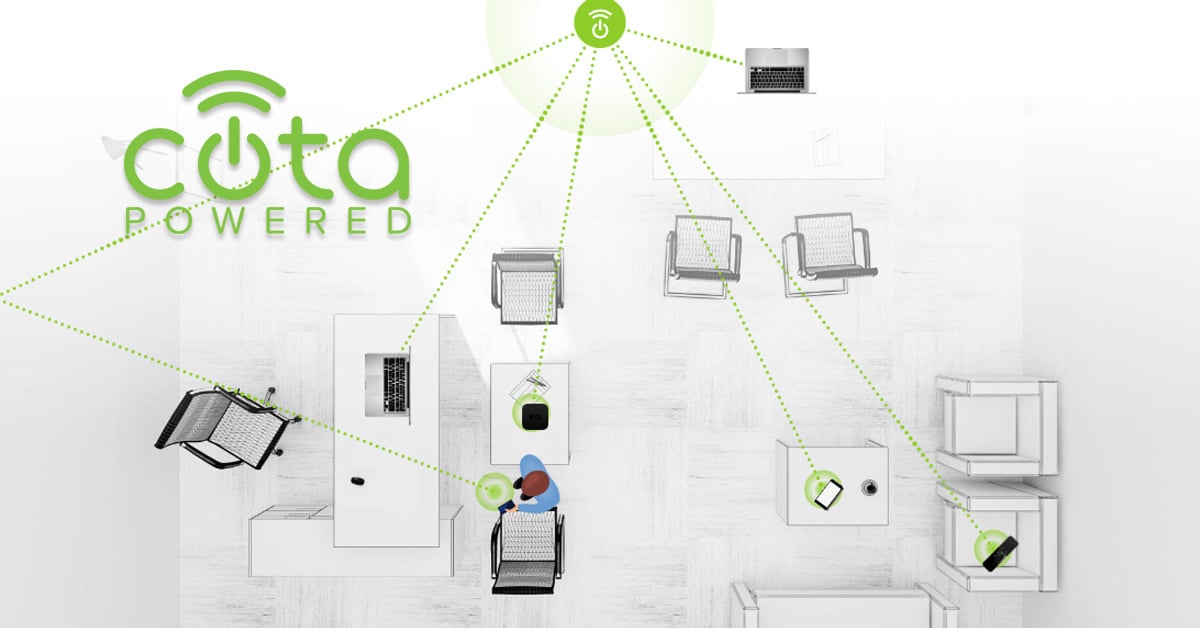 Quickly, Hatem realized that having four of eight antennas in the Hub made a huge difference to resolve signal degradation problems. Exploring the solution at higher scale resulted in a seemingly impossible/unexpected result, a thousand antennas in the Hub can deliver 1,000,000 times the signal strength, and at that level, it was literally power transfer over the air.
This was a huge a-ha moment. Receiving power in the same way we receive Wi-Fi? Wi-Fi enabled us to access the internet without cables or plugging in. We simply needed to be connected to a Wi-Fi system. Power over air, like Wi-Fi, would completely revolutionize the way we power up and use our devices. We could continuously receive power simply by connecting to the power "hub". Devices would never be low on power or need charging up.
Hatem committed himself to seeing this happen.
Ossia and Its Flagship Technology, Cota, Was Born!
After further studying the scientific and engineering literature as well as the regulatory requirements for such a technology, he founded Ossia to help develop the technology in secret for five years; the goal was to springboard the wireless power technology into a publicly demonstrable form. In 2013, he succeeded. Ossia's engineering team, led by Hatem, showcased Cota for the very first time at CES; since then Cota, in its various forms, has won five CES awards for innovation. During those five years, Hatem discovered that Cota can power devices in motion, deliver power in obstructed situations and that it naturally avoided humans in the room.
At the same time, the team was working to rigorously test the efficacy and prove the safety of the technology to gain FCC approvals. They were also working hard to apply for the invention's protection discovery via U.S. patents. In 2019, Ossia received its first FCC approval, and since then, Cota has gained additional FCC, CE, and UK regulatory approvals covering more than 60 countries. The team was especially energized and validated when the technology was accepted for power delivery over an unlimited distance (just like WIFI can send access to the Internet over unlimited distances).
Today, many companies worldwide are leveraging Hatem's invention to develop new products and features and even reinvent the way they design products for the market.
The Invention: How Does RF-Based Power Delivery Work?
Hatem Zeine has explained the groundbreaking wireless power technology, how it works, and how it is different from other types of power transmission you may have heard of for years. Here are a few recent places where you can hear from Hatem directly:
Not All Wireless Power Is Created Equal: Retro-directivity vs. Beamforming - In this article, Hatem describes how Cota is different from other technologies that have been pursuing wireless power over air.
How to Make Wireless Power at a Distance Possible - In this article, Hatem goes into detail about retro-directivity, the essential scientific principle that Cota is founded on, and that ensures that transmission is safe around people and pets. This revealing article also covers the questions, "How can power be transferred by radio frequency in the first place?" and "How is it possible to achieve meaningful power at a distance?"
Wireless Power and the Future of Sustainably Powering IoT: This is an interview podcast with Hatem Zeine about leveraging wireless power technology for IoT applications.
Electronic Design Video Interview: Hatem Zeine explains the physics principles behind how Cota Real Wireless Power technology works.
Interested in hearing about how Cota Real Wireless Power can help your team innovate your products and processes? We'd love to hear from you.