The unique properties of CotaⓇ Real Wireless Power™ make it ideal for wirelessly powering home video game controllers without batteries, charging, or wires.
The video game industry is making more money than movies and music combined today [1]. The first video game console, known as the Brown Box, invented by Ralph H. Baer, emerged in 1967 [2], and they have changed a lot since then!
Those early controllers were wired, which tethered the gamers to a single spot. Then came wireless technology. With a battery-operated wireless game controller, players were freed from their constraints and experienced less restricted movement.
But batteries have their own set of constraints. Power-hungry digital processing and radio amplifier can quickly deplete the battery-operated life of a controller. Gamers need a ready set of fresh batteries nearby, and must stop their play to switch out the old batteries.
Wouldn't it be great if the next generation of video game controllers retained their wireless freedom but eliminated the battery hassle?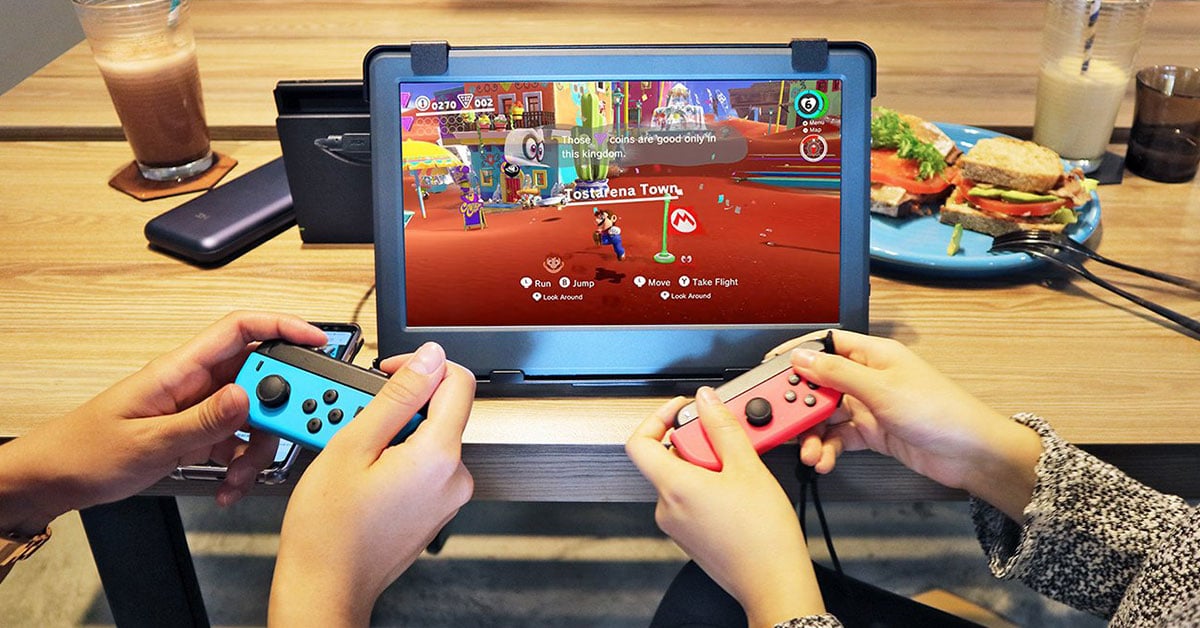 Home video game controllers eat up power
Unlike a TV remote, which does not consume battery energy unless a button is pushed, a wireless controller always maintains a wireless link with the console by sending and receiving data. This means that the wireless controller is always consuming the battery power even when not being used, unless it's manually turned off.
If you have a group of eight players ready to play Super Smash Bros Ultimate on a Nintendo Switch at a birthday party, and two Joy-Con controllers are battery dead due to being in standby for a long time … that can be inconvenient and embarrassing. The Switch charge station can charge two Joy-Con controllers at the same time, but that takes time and forethought.
Real Wireless Power, however, would deliver continuous power automatically to enable multiple wireless controllers to be charged up at all times. No batteries. No remembering to charge. No wires. (And no embarrassment.)
Cota Real Wireless Power to the rescue!
The Cota wireless power system is a form of wireless power transfer technology that can power multiple devices, such as electronic shelf labels (ESL), IoT sensors, mobile phones, and yes, video game controllers, over the air and at distances of several meters. Cota is a proven safe and interference-free technology that eliminates battery failure hassles.
Cota is the only available wireless power transfer technology that operates safely in the presence of people, including people moving through the possible transmission path. The technology for the Cota wireless power Reference Design Kit (RDK) platform for home and office use [3] is available today for license.
How will Cota revolutionize the home video game console?
The Cota wireless power system is a phased array antenna system that features both 2.4GHz and 5.8GHz power transmitters. The transmitters, which would be integrated inside the console, provide the wireless controllers continuous power over a distance. To facilitate cross-company and cross-country implementation of the different components of Cota, Cota's technology is available as an RDK. The kit provides both standard and hardware design reference.
With the Cota wireless power system, the next generation of home video game consoles and controllers will have the following features:
Wireless controllers are always charged and ready to use without the need for plugging in
No need to install a charger; customers will save time, space, and money
No need to manually turn off controllers to save power
No worries about battery power of multiple controllers; no interrupted games due to low power
Technical specifications: how Cota works for game consoles and controllers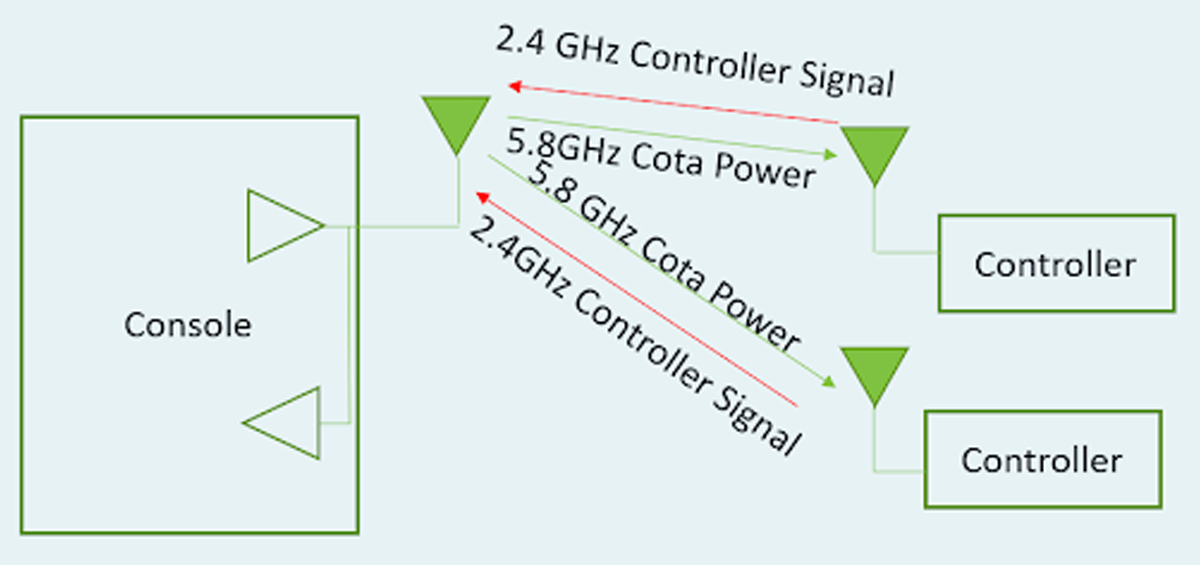 The Gold Standard: Cota Reference Design Kit
The Cota RDK provides a Cota transmitter in scalable form-factor options installed in a fixed location; this is a similar setup to the latest Sony PS5 console (39 cm x 30 cm x 5.2 cm).
The Cota RDK provides a Cota receiver with an antenna array of 7 cm x 7 cm, far smaller than most controllers (around 16 cm x 10 cm).
The Cota standard utilizes power on demand (POD) protocol; this is a power request through the issuing of beacons by power receiver. This is similar to a traditional wireless controller sending a control signal in one direction to the console whenever a button is pushed.
Cota utilizes the same frequency as the game console, which enables hardware reuse and reduces hardware development cost.
Cota Usability and Safety for Gamers
Cota Real Wireless Power is non line-of-sight (NLOS), which allows players to move around without worrying about disconnecting from the power source.

Cota provides wireless power up to 10 meters, which fully covers the distance between a console and controller (around 1 to 4 meters).

Cota supports any number of gamers, enabling an efficient and truly wire-free world that is always connected.

The Cota wireless power system is approved safe for use by the FCC, even with people and pets in the room.
With Cota wireless power technology integrated into the next generation of video game consoles and controllers, all the gamers at the party can enjoy their Super Smash Bros Ultimate without worrying about checking the power levels of the controllers one by one, remembering to charge in advance, or having the controller die in the middle of an exciting combat. Also there's no need to purchase an extra charge station that takes up space.
How to get Cota Real Wireless Power for your game console and controllers
With Cota, you can create the next generation of home video game consoles! Contact Ossia to learn about licensing the technology or getting connected with major electronics manufacturers that will facilitate the development and integration of Cota wireless power technology into your devices.


Sources:
[1] https://www.vanillaplus.com/2018/07/05/40093-video-games-market-worth-music-movies-combined-arent-csps-launching-games-services/
[2] https://www.realgear.net/stories/video-game-consoles-evolution-1967-2017-50-years-glory/
[3] https://blog.ossia.com/press/ossia-to-demonstrate-cota-5.8-ghz-at-mobile-world-congress-a-pillar-in-the-5g-infrastructure-roll-out