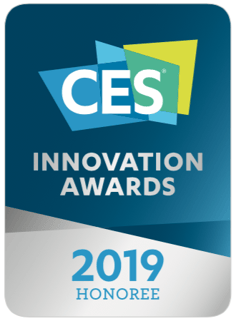 Ossia, at heart, is a technology innovation company, committed to leading the world in making Real Wireless Power a reality.
Our strategy is to make sure every participant of the wireless power ecosystem is focusing on what they do best, including our own company. Instead of being all things to all people, we focus on creating big, useful applications of wireless power, as well as continuing improvement on wireless power transmission itself.
Ossia's flagship technology, Cota, is Real Wireless Power at a distance, without cables or charging pads, and without the need for line of sight. It can power multiple devices at a time, with permission, without user intervention at all.
We're super excited to share that our latest application of Cota has received a time-honored recognition from the Consumer Electronics Show (CES).
Ossia Wins 4th CES Award for Cota Forever Sleeve
The Cota Forever Sleeve is the world's first wirelessly powered charging case for smartphones, our latest innovation in a lineup of awards:
Ossia's flagship wireless system first became a CES Innovation Award Honoree in the Tech for a Better World category in 2016.
Then in 2017, our Cota Tile, a wireless power transmitter disguised as a ceiling tile, won a CES Best of Innovation Award.
Ossia's Cota Forever Battery, a wirelessly powered AA battery, was an honoree in the Smart Home category in 2018.
This latest application of Cota technology was named a CES 2019 Innovation Awards Honoree in the Wireless Devices, Accessories, and Services category. In January 2019, we'll debut the Cota Forever Sleeve and our other award-winning wireless power technologies at the 2019 Consumer Electronics Show in Las Vegas, Nevada.
Cota Forever Sleeve: Real Wireless Power for Smartphones
You might be thinking, hey, I've seen many wireless power cases for smartphones. True, but those are based only on induction charging or Qi, which means the case needs to be nearly touching or touching a charging pad to receive power.
Not so with Cota Forever Sleeve. It powers your phone even while you're walking around, using the phone, or meters away from a Cota transmitter. It doesn't even need to be within sight of a charger; your phone could be tucked within your satchel, in your nightstand, or around a corner in the building. What's more, it works with Qi, too, so you can use both charging methods at your convenience.
How the Cota Forever Sleeve Delivers Wireless Power
These days, we depend on smartphones for everything from information to entertainment to work and safety. Constantly checking battery levels and finding downtime to plug is a drain on our time and attention, not to mention an obstacle to worker efficiency. Ossia set out to solve this problem with the Forever Sleeve.
The Cota Forever Sleeve has a small lithium-ion battery built right in that receives power wirelessly from a Cota transmitter and automatically delivers power to the phone's battery.
Because your phone is always topped up in your Cota-powered environment, it's always fully charged when you leave. That means no low-battery power surprises when you're out and about. An no more anxiety in the morning when you need to leave and you realize your phone wasn't charging all night.
Cota wireless power service providers (such as a retail store, office, factory, or even private individuals at home) can activate, manage, and monitor Cota Forever Sleeves from the Cota Cloud platform.
For example, a coffee shop could offer power to all visitors who sign up for a loyalty program from their phone. Or a factory could choose to automatically approve and power all Forever Sleeves inside a geo-fenced space.
Cota Forever Sleeves are able to charge billions of smartphones continuously, and it's safe for people, pets, and plants.
Cota Forever Sleeve Delivers Convenience and Confidence
Ossia licenses Cota technology and global wireless power standards, so we can keep our focus on optimization and innovation, and our partners can focus on manufacturing, distribution, and service delivery.
If you are a potential partner or collaborator interested in leveraging the Cota Forever Sleeve technology, we look forward to hearing from you.
You might also be interested in:
Wireless Charging and Wireless Power Delivery: What's the Difference?