It's been long accepted across many industries that electronic ink technology can provide tremendous benefits to both business and consumer: the real-time updates and ease and flexibility of management are two biggies.
Over the last two decades, electronic shelf labels for retailers, digital signage, logistics tags, and distributed sensor networks have been developed and deployed around the world. With all the benefits and available technology, why haven't we seen them more often in businesses and stores?
The answer is simple: Cost.
The costs involved in designing, building, and managing a system for labels, tags, and sensors that is wired or battery operated can be expensive. For example, the cost of installing a labyrinth of wires or the alternative cost and constraints of batteries that deplete and need to be removed, recycled, and replaced is prohibitive for many organizations.
Thankfully, that obstacle will soon be a thing of the past, thanks to a strategic partnership and wireless power technology.
First-of-its-Kind Wirelessly Powered Electronic Paper Display
We are proud to announce our latest wireless power achievement through a partnership with E-PEAS and E Ink, two leaders and innovators in battery-less IoT applications and electronic ink displays, respectively.
Together, we have successfully developed the first-of-its-kind wirelessly powered Electronic Paper Display ("EPD") prototype system that is entirely battery-free, and leverages Cota® Real Wireless Power technology.
Cota is power delivered safely over air, at a distance, and without the need for wires, charging pads, or line of sight. An application of Cota for commercial purposes was recently approved by the FCC.
Without the need for any wires or batteries, this ground-breaking wirelessly powered EPD system can be operated at-a-distance in a dynamic environment: this is perfect for commercial applications and a wide range of industries, including retail, industrial, logistics, and warehousing.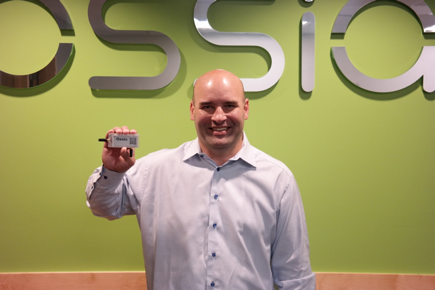 Jamie Wojcik, Lead Hardware Systems Engineer at Ossia has been instrumental in designing the next generation ESL.
Wireless Power Enables the Proliferation of Electronic Ink
Wireless power is the key enabler to the extensive use of smart display solutions in IoT. Through wireless power, device lifetimes are significantly extended, well beyond the capacity currently offered by traditional batteries. Device functionality is significantly enhanced as well. Add in the eliminated costs of wiring and batteries, and you can see how this can take off.
Increasing the overall potential of IoT solutions is one of the things we are most passionate about at Ossia. Our working prototype of the wirelessly powered EPD is available for demonstration today and will likely be released for commercial use by the end of 2020.
Related Wireless Power Achievements