Sleep rings

, sweat sensor patches

, bracelets, clips, and even smart clothing

: wireless power is impacting the wearable — and nonwearable — health and patient monitor. But the even bigger impact to society might be the wirelessly powered remote patient monitor.
Heart rate, blood pressure, sleep patterns, glucose, activity levels, respiratory function: health and fitness trackers are on the rise as consumers, patients, and the healthcare profession demand more easily accessible and continuous data to fuel healthcare and lifestyle decisions and behaviors.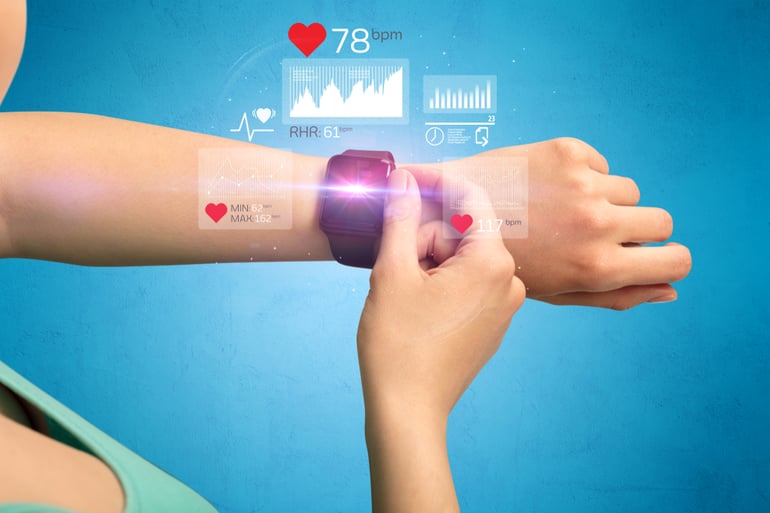 Most people are familiar with wearable smartwatch or wristlet type fitness trackers, made popular by Fitbit, Apple, Garmin and others. These types of health trackers include rechargeable batteries built in that can either be plugged in or set on a Qi-type charging pad on a regular basis to charge up.

The next advancement is to eliminate the battery all together and power these multiple wearables via wireless power over air. This will lead to a range of benefits and conveniences, including enabling an uninterrupted stream of data collection (no downtime for charging required).

Real Wireless Power will not only improve the value and usability of fitness trackers, but also a whole range of health trackers that are making headway. These include:
Digital patient monitoring devices (remote vital sign monitoring)
Glucose monitoring devices and other specialty health status trackers
Sleep-tracking rings, mattresses, and smart home hubs
For all of these health trackers, not only is size and weight a factor, but so is reliability, the ability to send and receive data, and most importantly security. Wireless power over air is positioned to deliver on these needs and make these devices and others like them more viable, useful, and reliable over the long term.

The fastest growing segment of health trackers? Digital patient monitoring. Let's take a closer look at how wireless power will impact this market.
Digital patient monitoring and wireless power

The demand for reliable digital patient monitoring devices in the healthcare sector is growing rapidly, most likely due to the pandemic. Remote vital sign monitoring not only keeps patients and caretakers safe, but it also increases patient privacy and quality of life.

How much is the demand? The patient monitoring devices industry stood at USD 29.1 billion in 2022 and is predicted to grow at the rate of 10.0% CAGR from 2023-2030, according to Grand View Research. This includes devices for:
Remote patient monitoring
Vital sign monitoring
Blood pressure monitoring
Multiparameter patient monitoring
These health monitoring systems typically include a small device that is worn by the patient either with a sticky tape or elastic strap. The wearable components are most often powered by rechargeable or disposable batteries that may or may not last the monitoring duration requirements. The burden is on the patient to realize that the device needs replacing or charging, and often critical monitoring time has lapsed.
Related Articles on Healthcare and the Impact of Wireless Power
1 https://www.zdnet.com/article/best-smart-ring/
2 https://www.trendhunter.com/trends/sweat-fitness-tracker
3 https://www.makeuseof.com/smart-clothing-improve-health-fitness/
4 https://www.openpr.com/news/3027285/glucose-monitoring-devices-market-size-share-industry
5 https://healthnews.com/family-health/healthy-living/wearable-medical-devices-used-in-healthcare/
6 https://www.wired.com/gallery/best-fitness-tracker/, https://www.forbes.com/health/body/best-fitness-apps/
7 https://www.openpr.com/news/3027285/glucose-monitoring-devices-market-size-share-industry
8 https://www.cnet.com/health/sleep/best-sleep-trackers-of-2023-and-how-they-work/
9 https://www.cnn.com/cnn-underscored/reviews/best-sleep-trackers
10 https://menafn.com/1106084335/Vital-Signs-Monitoring-Devices-Market-2026-The-Growing-Branch-Of-Healthcare-Sector-Updated-PDF
11 https://www.grandviewresearch.com/sector-report/patient-monitoring-devices-industry-data-book
12 https://www.prnewswire.com/news-releases/patient-monitoring-devices-industry-to-rise-with-strong-demand-for-remote-patient-monitoring---grand-view-research-inc-301795836.html
13 https://www.medicalplasticsnews.com/news/medical-plastics-device-news/honeywell-develops-health-monitoring-system/
14 https://www.digitaljournal.com/pr/news/digital-patient-monitoring-device-market-2023-swot-analysis-by-leading-key-players-omron-at-t-phillips-healthcare-airstrip-technologies
15 https://www.prnewswire.com/news-releases/remote-patient-monitoring-devices-and-equipment-global-market-report-2023-301743322.html