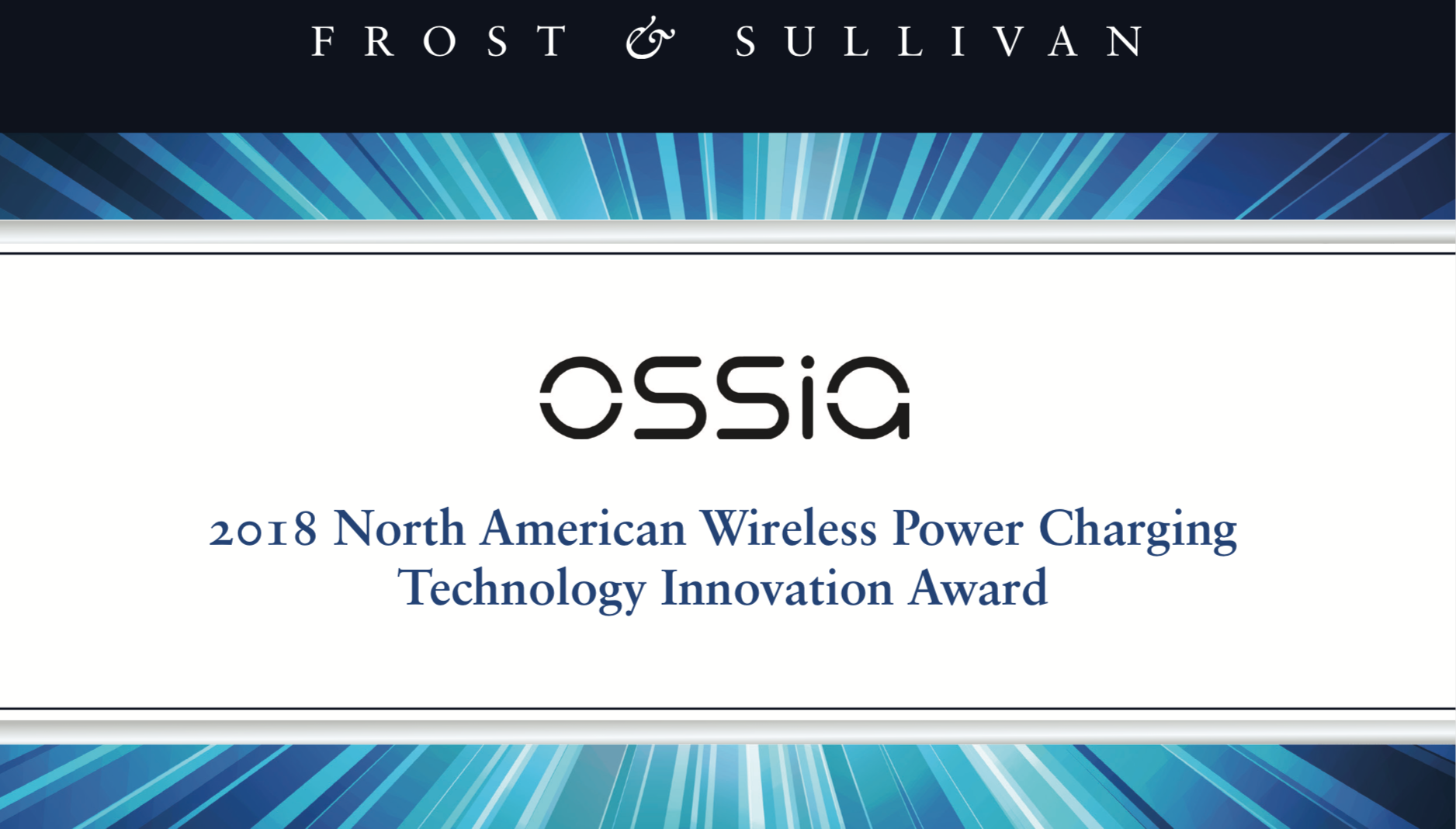 We are dedicated to innovation, especially the innovation and advancement of wireless power, and this dedication can often feel like a behind-the-scenes and thankless activity. Not this week. All of us at Ossia -- from administration to engineers -- are celebrating the recognition of Frost & Sullivan, a reputable research company, which has presented Ossia with the 2018 North American Wireless Power Charging Technology Innovation Award.
2018 North American Wireless Power Charging Technology Innovation Award
Frost & Sullivan recognizes best-in-class positions in growth, innovation and leadership by following a 10-step process to evaluate award candidates and assess their fit with select best practice criteria.
The steps include conducting a global industry review and a 360-degree analysis of all wireless power candidates in the field. A panel of subject-matter experts are looking for pioneers in the wireless charging space that are eliminating the current limitations of induction-based charging, also known as Qi.
The research company was impressed by Cota's technology attributes and future business value.
How Is Cota Wireless Power Different?
Cota is different from other emerging wireless power technologies in several ways. Here are just a few:
DISTANCE: Cota delivers power over a significant distance, and this distance can be expanded. No pads or mats or dongles required.
MULTIPLE DEVICES: Cota can deliver power to many devices at once, even when in use.
EFFICIENCY: Cota does not need an algorithm to constantly track a moving device to deliver power.
APPLICATION: Cota technology can apply to multiple uses; one reason being that the receiver size is tiny. In addition to smartphones and tablets, it can also be integrated with IoT, office, automotive, medical, and retail devices, to name a few.
What This Award Means for the Wireless Power Ecosystem
The wireless power ecosystem is made up of product manufacturers, wireless power component manufacturers, service providers, consumers, and technology innovators, like Ossia. All of these groups are constantly evaluating new technologies and applications, and seeking ways to best work together.
Awards like these help provide the whole ecosystem confidence in Ossia's RF-based wireless power over air system to help them achieve their business vision and collaborate.
What Is Cota: Real Wireless Power?
Cota is Real Wireless Power delivered to small devices and sensors without plugs, wires, or charging pads. A single transmitter can power multiple devices in motion, without a line of sight, and at a distance of up to a 30-foot radius with only one transmitter, and a 50-foot radius with two. Cota is inherently safe and does not interfere with other wireless technologies. All Cota-enabled devices can be activated, managed, and monitored via the Cota Cloud platform.
What's more, manufacturers don't have to wait for new devices to be made Cota-enabled. Current devices can become wireless through the Cota Forever Battery technology, which essentially retrofits any small battery-powered device to receive wireless power.
To learn more about Cota, this award, and licensing opportunities, visit www.ossia.com to contact Ossia.