RC car sales go up at the holidays. But the seasonal joy is often cut short by limited battery life. Wireless power over air may be the gift that RC car enthusiasts didn't know they wanted.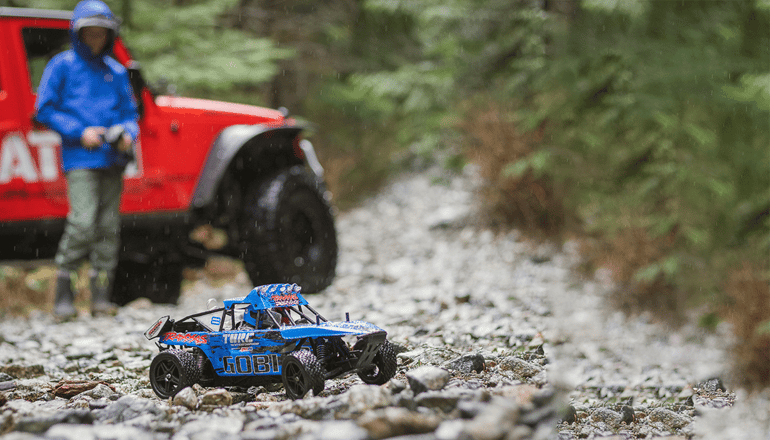 RC car makers love the holidays. It's a big time for sales of radio-controlled race cars, trucks, ATVs, boats, drones, and more[1] … and not just for kids. Adults love to get in on the action, even if that time is abruptly cut short by the need for a recharge.
"The Global Remote Control Toy Car Market size was estimated at USD 212.56 million in 2020 and expected to reach USD 240.37 million in 2021, at a CAGR 13.51% to reach USD 516.18 million by 2027."[2] That's a sizable market that shows a large fanbase year-round, not just at the holidays.
Using a wireless remote controller to send an RC car zipping along a track — or down a driveway or across an obstacle course in the backyard — is thrilling. What isn't as fun is a dead battery.
RC car battery life limits drive time from 20 minutes to two hours, depending on the battery, terrain, and how hard they are driven. A recharge can stop the action for hours, and over time, these batteries lose their oomph, and may need to be replaced in as few as 18 months.
The problem is real. Many self-educated RC car experts have created videos[3] and written extensively about battery and battery charger types, which ones are best for speedy charging, and how best to charge and store batteries for extended life.
Major RC car brands, too, are focused on batteries. Companies such as Traxxas, Mugen Seiki, Tamiya, and the whole Horizon Hobby® family of RC vehicles[4], have lively customer forums[5] on the topic, and/or disclose battery charging times on their sites. Extended battery lifespan is often touted as a featured selling point.
To get an idea of the breadth of this charging challenge, check out this extensive list of RC car brands that each have their own battery systems and guidelines.
RC Car Customers Want Speed, Endurance, and Longevity, and the Battery Is Holding Them Back
To optimize their RC car ownership experience, customers need to educate themselves about their battery system, including:
How old it is and how to handle it safely to avoid fire and injury

How fast to charge the battery and for which situations (before a race, before storage, etc)

At what voltage and temperature to store the battery

Recharge cycles, and how many the battery has: no battery lasts forever

Internal resistance, to understand performance, lifespan, and when to retire the battery

Proper battery care overall and how and where to safely recycle old batteries
This is a lot to ask. You might expect care and maintenance instructions like these for full size electric cars or wireless precision power tools, but not for hobbyists who are looking to have some fun.
The good news is that there is a single technology that solves all of these problems: Real Wireless Power.
RC Cars Can Run Battery-Free on Wireless Power over Air Today
Real Wireless Power is power delivered by radio frequency over air and at a distance, even when the receiving device, like an RC car, is in motion. And yes, that motion can be fast.
In fact, Cota Real Wireless Power transmitters and receivers send and receive beacons, to determine location, at 100x/second, and then instantly send power safely along those same discovered paths to devices.
What's more, Cota can be used alone or in tandem with traditional battery systems to create the optimal "tuning" for each RC car and situation.
In other words, RC cars running on wireless power can theoretically race forever. The battery would no longer be an interrupting factor; racers could turn to other (more interesting) concerns, such as track and tires, suspension, aerodynamics, and overall build endurance.
How to Install Wireless Power into RC Cars
In order for RC cars to leverage Real Wireless Power, RC car manufacturers can leverage RF-based wireless power delivery systems that exist today. Here's how it works:
A tiny Cota receiver is integrated into the RC car (to demonstrate how simple this can be,

check out this article

where a non-engineer describes how to turns a battery-operated hand sanitizer dispenser into one that runs on wireless power);

Ossia is licensing this technology

to manufacturers and technology partners today.

A transmitter (or a network of transmitters, depending on how large the space is) is installed in a building, much like a wifi modem. Many companies install them as ceiling tiles. RC car manufacturers can build these themselves, based on Ossia's technology guidelines, or they can leverage an Ossia partner to make them to spec.

A single Cota transmitter can deliver power to multiple RC cars simultaneously over 30 feet in distance. The distance and number of receiving devices is multiplied with a network of transmitters, so an entire racing facility can be covered.

The transmitter sends power even when the receiver (and RC vehicle) is not in line of sight. In other words, Cota goes around obstacles and avoids people and pets to deliver uninterrupted power safely.

RC cars, as well as other electronic devices, such as Cota-enabled remote controllers and personal smartphones, can receive power wirelessly when in use or while being stored
Are you an RC car enthusiast? Send this article to your favorite RC car makers! If you're a manufacturer of RC car components, consider wireless power over air for your organization's innovation features list … before the competition beats you to it. Contact Ossia for more information about Cota Real Wireless Power.
Learn more about:
The Cota Power Table
The Cota Receiver and Transmitter
Innovating with Wireless Power
First Party Data Collection with Wireless Power
[1] https://nrf.com/media-center/press-releases/record-1663-million-shoppers-expected-during-thanksgiving-weekend
[2]https://www.globenewswire.com/news-release/2022/03/29/2411810/0/en/Remote-Control-Toy-Car-Market-Research-Report-by-Age-Group-by-Type-by-Region-Global-Forecast-to-2027-Cumulative-Impact-of-COVID-19.html#:~:text=The%20Global%20Remote%20Control%20Toy,USD%20516.18%20million%20by%202027.
[3] https://www.youtube.com/results?search_query=RC+car+battery
[4] https://www.horizonhobby.com/product-support-landing.html
[5] https://www.arrmaforum.com/search/317543/?q=battery+life&t=post&o=relevance
[6] https://images.amain.com/images/manuals/ProTek_NiMH_BatteryManual.pdf
[7] https://www.thedronegirl.com/2020/05/24/lipo-batteries-last/