Companies are no longer thinking about when wireless power will be viable, but exactly how they will start integrating it into their businesses, operations, and products in 2023. To make things easier, Ossia has been busy creating two products, the Cota® Universal Base™ and the Cota® 5.8GHz Real Wireless Power Developer Kit, that help solve the most intensely discussed challenges companies face.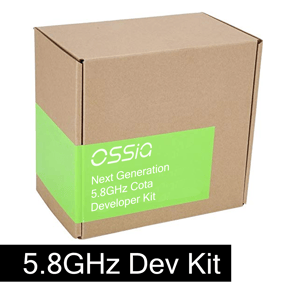 The concerns we are hearing from organization of making wireless power happen are two-fold:
Bridging the gap for customer adoption:

How does a company expedite time to market when they have so many products on the shelf and in customer hands that use other power options, like batteries, charging pads, and plugs? How can they switch to wireless power without disrupting customer experience, delivered retail, and currently in-progress production?



Commercial scalability:

Will the technology actually work for specific commercial applications? How can they know for sure?
Ossia created the Cota® Universal Base™ to bridge the gap for a seamless process for customer adoption. That solves problem #1. And we developed the Cota® 5.8GHz Real Wireless Power Developer Kit to address commercial scalability and to provide developers with hands-on experience and confidence in wireless power for their applications. Problem #2 solved, too! Both products are being announced and showcased at the 2023 Consumer Electronics Show (CES) in Las Vegas, Nevada, in January.
Here's a quick preview of Ossia's latest offerings.
Cota® Universal Base™
A Wirefree Charging Base for Electronic Devices
The Cota Universal Base provides manufacturers with a seamless transition away from the traditional battery-operated or plug-in charging options that their products currently offer. It can be integrated into electronic devices that are currently available, as an additional or as alternative power option.
Customers have been complaining about short battery life, charging times, and the need to find the right charging plugs and adapters for years. The Cota Universal Base eliminates all of these problems and provides a cord-free way to stay charged and connected. The Universal Charging Base includes a Cota Home Node, which can be placed anywhere in a room to deliver power to the base wirelessly. The base, too, can be placed anywhere, and can even be in motion without interrupting power delivery.
Cota® 5.8GHz Real Wireless Power Developer Kit
A Wireless Power Testing Kit That Demonstrates Commercial Integration Capabilities and Scalability
This developer kit is designed to provide organizations a unique opportunity to evaluate the smaller size and increased power capabilities of Cota using the 5.8GHz ISM radio-frequency, as compared to Cota 2.4GHz. Cota 5.8GHz has been available for a couple years; the 2023 release has been developed for commercial scalability.
The kit includes everything organizations need to evaluate the technology and power delivery, and understand which of their applications would best leverage it. It also shows how they can best integrate Cota 5.8GHz into their own products and electronic devices.
Once integrated, devices will receive power automatically over air and at a distance, without user intervention, batteries, or the need to plug in.
Real Wireless Power Has Come a Long Way
Cota Real Wireless Power was first demonstrated at CES 2013 and has since won six CES Innovation Awards, including the 2023 CES Innovation Award for the ARCHOS Cota Wireless Power Security Camera in the Smart Home category. The ARCHOS Cota Wireless Power Security Camera leverages the Cota Universal Base, and attendees at the CES conference will be able to see it in action.
Contact Ossia for more information about Cota Real Wireless Power and leveraging the latest wireless power technology available.
Learn more about more ways to accelerate wireless power integration and time to market:
The Cota Power Table
The Cota Receiver and Transmitter
Innovating with Wireless Power
First Party Data Collection with Wireless Power