The unique properties of Cota Real Wireless Power™ make it ideal for 5G ORAN to provide simultaneous wireless power transfer and data transmission.
In the last article, we talk about the great value of enabling 5G O-RAN with simultaneous wireless power transfer (WPT) to provide continuous battery power and high reliability. In this article we will cover three ways that WPT can take to make this happen and how Ossia can help it.
O-RAN's Open Fronthaul Interface Can Benefit WPT
O-RAN implements an open fronthaul interface that splits remote radio units and baseband distributed units via a packet-based transport layer like IP or Ethernet.
This open fronthaul interface means that third-party products can communicate with the distributed unit if they are fully complaint with the open standards. What's more, multiple radio units from different vendors that are operating on different frequency bands can be connected to the central baseband unit pool.
Radio-frequency based wireless power transmitters can be incorporated as one of the radio solutions in O-RAN infrastructure. This simultaneously satisfies both wireless data streaming and power charging requirements of the end users. Because wireless power systems are usually operating in an unlicensed band, they won't interfere with the coexistent 5G channels and will provide continuous power charging for end users.
The Radio Unit diagram shows the architecture of simultaneous delivering wireless power and content data via a multi-radio solution for a typical O-RAN infrastructure.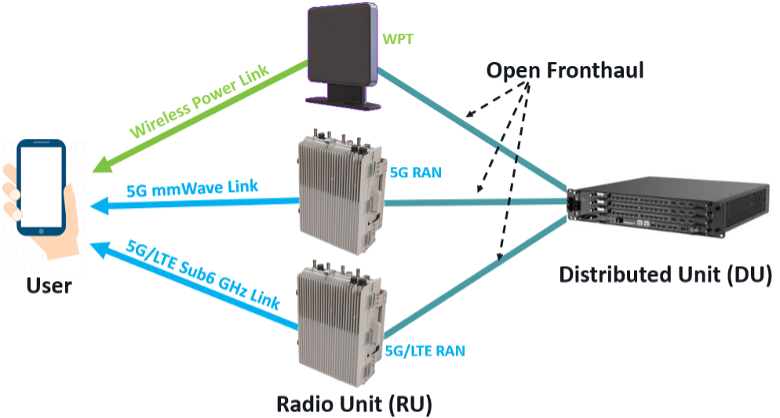 O-RAN's Software Virtualization Can Benefit WPT
O-RAN hosts baseband processing in commercial-off-the-shelf (COTS) x86 servers that can be purchased from any ODM/OEM hardware vendor. This support for generic hardware enables network and application functions to be virtualized and the software defined, so new mechanisms for enabling 5G capabilities and other new technologies can be created.
By supporting scalability and disaggregation, O-RAN standards are freely accessible to all third-party software developers to support development of new services, such as wireless power transfer software and service. With virtualized software, wireless power administrators can easily send software updates to the network infrastructure to accommodate the changes.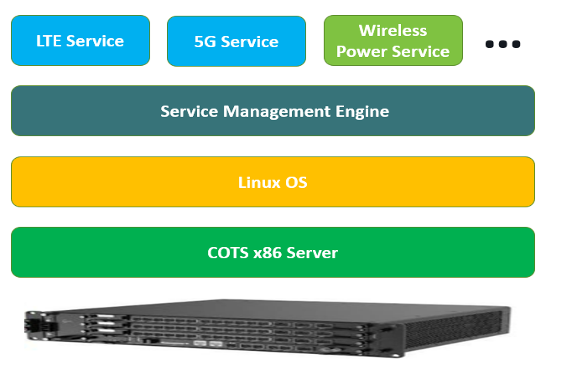 O-RAN's AI Technology Can Benefit WPT
O-RAN helps telecommunication companies to handle the increasing complexity of 5G networks by deploying AI/ML technology in RAN Intelligent Controller (RIC) to manage interconnected O-RAN platforms.
Intelligence is one of the key principles based on which next-generation architecture is developed to use real-world data to:
Reduce power consumption,

Increase network performance, and

Lower management cost for large number of users.
Thanks to 5G O-RAN open software platforms, wireless power cloud service can be also easily leveraged by the built-in intelligence. It can be a commercial component software that enables non-real and near-real time management and optimization of the power demands from an extraordinary number of IoT devices.
AI can further leverage the O-RAN ecosystem to jointly optimize traffic steering management, control, and policy of O-RAN resources between wireless power users and data service users without increasing network overheads.
For example, cellular connections and wireless power management can exchange authentication and network access data to save significant overhead and time for controlling millions of IoT devices with different service types … all by utilizing AI training algorithms
Also, handover for both wireless power and data service will be jointly optimized automatically when the device moves from one O-RAN access coverage to another.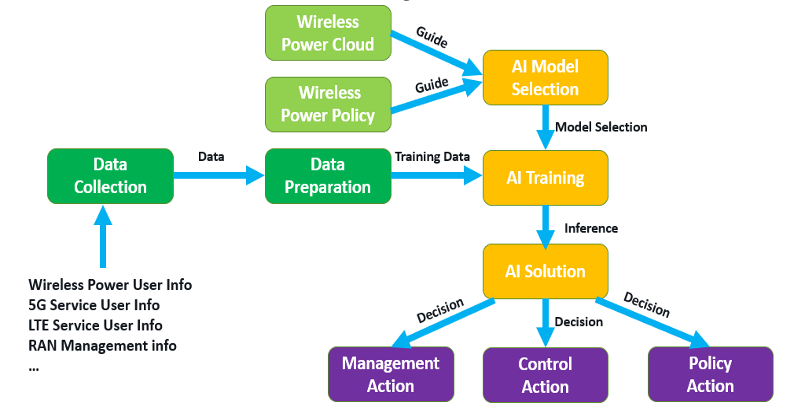 Cota Real Wireless Power Makes It Come True
Ossia is re-defining what is possible with wireless power and has the proven technology to trigger this renovation: Cota Real Wireless Power. Ossia's patented, FCC-approved technology can deliver wireless power to a targeted device over a distance, including NLOS scenarios, and is designed in a manner that inherently avoids obstructing objects, such as humans and pets.
Cota includes wireless power reference design that manufacturers and product designers can rapidly integrate into their own wireless/IoT solutions, such as base stations, home wireless routers, and ceiling tile transmitters, to safely deliver remote wireless power.
Real-world use cases that apply Ossia's patented technology to a manufactured product and the ecosystem include many commercial applications, including batteryless Electronic Shelf Label (ESL) devices for retailers and asset tracking for smart transportation.
Ossia has recently released a 5.8GHz wireless power transfer Reference Design Kit (RDK) and associated components to partnered customers. The reference design contains:
The Cota transmitter hardware reference kit,

Cota receiver hardware reference kit,

Software components, and

Testing instructions to provide a complete solution for manufacturers and designers to develop and deploy their products to market with wireless charging technology.
The Cota Wireless Power Transmitter (Cota Tx) and Receiver (Cota Rx)
The Cota wireless power transmitter is a large array antenna system, like a typical 5G radio frontend unit, which can be incorporated into the O-RAN infrastructure in OEM design.
The RDK also includes the wireless power receiver reference kit, which comprises the Ossia patented antenna for high-efficiency power harvesting for compact form-factor devices such as IoT, mobile phones, and cameras.
This kit can be connected to any Microcontroller Unit (MCU) to enable a host device to harvest wireless power as a constant and safe power source.
Manage via the Cota Cloud
Cota Cloud is a cloud-based software solution provided by Ossia that helps manage connected wireless power devices with mobility, visibility, and flexibility [1].
Cota Cloud's built-in software can operate on any COTS server, which can be integrated into O-RAN ecosystem as third-party software, in order to provide customized management across multiple wireless power transmitters and achieve task automation.
A network administrator can observe the power consumption level of any associated wireless power device in any place in real-time and deny access with policy control whenever new authentication has been updated.
Smart data-driven algorithms can be applied to schedule power delivery orders for large number of wireless power users depending on service priority.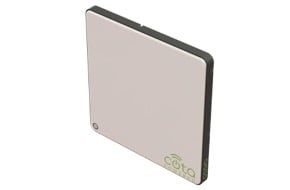 Cota is currently the only working wireless power technology that is ready to power this revolution for O-RAN infrastructure. How will this open a new generation of your telecommunication business? Contact Ossia to learn about licensing the technology or partnerships to apply Ossia's patented technology to your product to simultaneously deliver the power and data over the air.
Sources:
[1] https://www.digitaltrends.com/cool-tech/ossia-cota-tile-cloud-ces-2017/