Originally posted in NewElectronics by Neil Tyler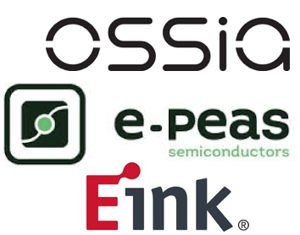 Ossia, e-peas and E Ink have announced that they have successfully developed a wirelessly-powered Electronic Paper Display ("EPD") prototype system that is entirely battery-free.
This system can be operated and wirelessly powered at-a-distance in a dynamic environment, without the need for any wires or batteries. The companies said that they plan to release this technology for commercial use by the end of next year. It is presently available for demonstration purposes only.

Ossia, E-PEAS, and E Ink believe that wireless power will be a key enabler to the extensive use of smart display solutions in the Internet-of-Things ("IoT") field, such as electronic shelf labels for retailers, digital signage, logistics tags and distributed sensor networks.
Wirelessly powered EPD devices for the IoT can be used in a wide range of industries, including retail, industrial, logistics and warehousing.

Through wireless power, device lifetimes are significantly extended, well beyond the capacity currently offered by traditional batteries. Device functionality is significantly enhanced as well.

"We are dedicated to expanding our FCC approved Cota technology to the largest sector in the world and increasing the overall potential of IoT solutions," said Preston Woo, Ossia's Chief Strategy Officer. "We are further pleased to collaborate with E Ink, the pioneer and commercial leader in ePaper technology, and E-PEAS, a leading semiconductor for IoT applications with the best-in-class solution for energy harvesting, processing and sensing."

"Our vision at E-PEAS is to enable the seamless operation of all connected devices anywhere, anytime, in any conditions with smart innovative solutions," said Geoffroy Gosset, CEO and co-founder of E-PEAS. "Enabling the broad proliferation of sustainable EPDs and smart IoT devices, in collaboration with top tier partners, is directly in-line with our core mission."

"The development of wirelessly powered EPDs is another validation of our technology's durable and ultra-low power displays being applied to previously impossible and unimaginable applications," said Johnson Lee, President of E Ink Holdings. "Ultimately, commercialising battery-less ePaper solutions will enable the potential of IoT applications that require ultra-low power consumption displays. It also makes digital transformation easier than one can imagine in various applications such as logistic tags, luggage tags, digital signage and other digital tags."
Websites