Originally posted by Deirdre O Donnell on NotebookCheck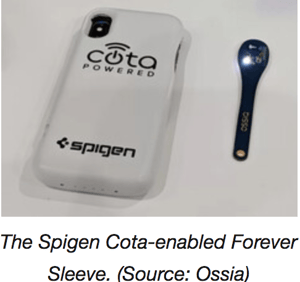 Ossia is a rare kind of company: one engaged in the development and delivery of truly wireless charging. In other words, it wants to bring products that allow devices such as smartphones to re-charge their batteries using energy sources that can safely reach them through the air. Ossia claims that its solution can work in the complete absence of wires, pads, electrical sockets and (possibly most importantly) lines of sight.
This is done through the use of transmitters based on Cota technology. Ossia claims that the final version of this product will send energy at 5.8GHz to compatible receivers. These are currently only found in prototype cases made by Spigen. Known as Cota-enabled Forever Sleeves, they are projected to ship some time next year.
The partners claim that the Forever Sleeve "retrofits smartphones with Cota Real Wireless Power". This enables the phone in question to charge continually off a lithium-ion battery built into the Sleeve, which in turn receives power wirelessly from a transmitter that could, according to Ossia, be installed in a ceiling or a corner of a room.
For now, Spigen and Ossia claims that it has servicable renders with which to demonstrate the Cota system. They are to be showcased at the Mobile World Congress (MWC19), which is ongoing from today (Feburuary 25, 2019) until February 28.
Source(s)