Works very similarly to WiFi, except instead of sending data, it sends power up to 10 metres without requiring line of sight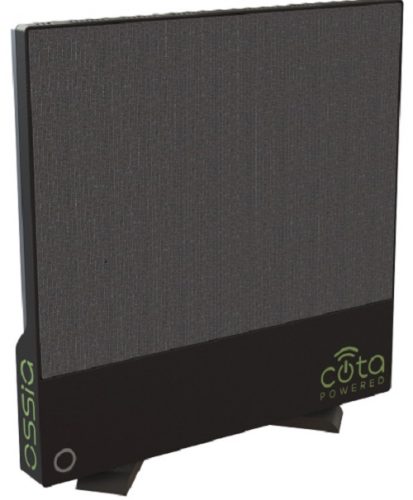 Ossia Inc. ("Ossia"), has created the Cota Real Wireless Power, a device that can deliver power over air and at distances up to about 10 metres with electromagnetic waves.
Cota works very similarly to WiFi, except instead of sending data, it sends power. The device constitutes of two parts: the Cota Power Receiver and Transmitter.
The Cota Receiver
It is a tiny silicon chip embedded into your product. The Cota receiver sends a beacon signal to find a Cota Power Transmitter. The transmitter then sends power back in the same paths. This 'conversation' between device and transmitter happens 100x/second, to send power safely to devices at a distance. All your Cota-enabled devices will receive power simultaneously.
The Cota Transmitter
When the Cota transmitter, which can be any shape, spots the Cota receiver's signal, sends power back through all of the same paths the receiver used. This multi-path functionality allows it to continuously and safely send power when needed.
Cota Cloud
Cota Cloud is cloud-based software that helps manage connected devices to give you total mobility, visibility and flexibility when using the technology.
In other wireless power technologies that require line of sight, the delivery of power must be stopped when something or someone moves into the path of transmission, making efficient power delivery over the air to the (stationary or moving) device almost impossible.
Cota does not require line of sight and can continuously track a moving device, which enables efficient power delivery. An advantage of Ossia's technology is that electromagnetic waves are made to reflect off of walls so that they do not directly hit humans or pets in a room.
"Cota has been proven to effectively power small devices and IoT in consumer, commercial, and industrial environments," said Doug Stovall, the CEO of Ossia.
He further added, "Wires and batteries and charging pads can only get us so far. With IoT, 5G and other 'connected world' advancements exploding across industries and the globe, wireless power over the air is not a luxury, it's a necessity … for the health of our planet, our workers, and our future world-improving inventions."