At CES, popular themes are still centered around connectivity, interoperability and sustainability which is good for consumers.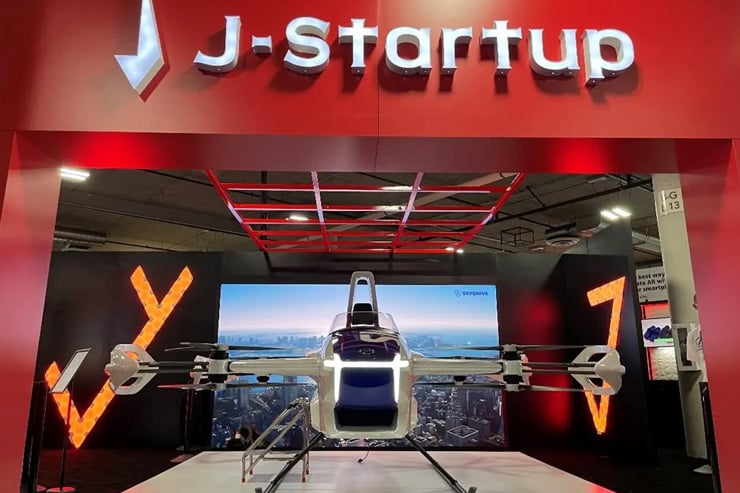 SkyDrive
As we switched from Zoom call to Microsoft Team meetings, our second day at virtual CES was eventful. We saw companies with interesting technology, products and services that can make our lives better. Whether you want an automated solution for a good night sleep with clean air, customized sound experiences or new useful smart devices for your smart home, we saw a bunch of these products and more today. We even saw an emission-free flying vehicle. Here is a quick look at a few that caught our eye and would be a good addition to your new connected life now or in the near future.
Here is our second day of CES 2022:
Coway – New Smart Sleep Solutions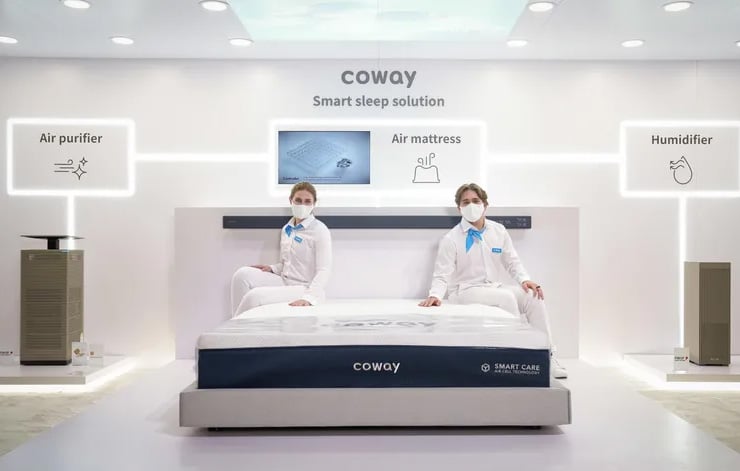 Coway Smart Sleep Solution | Coway
GearBrain has tested Coway smart air purifiers and have found them to be effective smart devices for your home. At CES, we did see new smart air purifiers from Coway. There were the Airmega Icon and IconS smart air purifiers which are the first to feature a wireless charging station. The company also added new design elements to their existing Airmega 150 line of smart air purifiers and new Coway Noble Collection of air and water purifiers. But the tech that caught our eye was Coway's new Smart Sleep Solution, Smart Care Air Mattress and Smart Sleep Solution. This new smart adjustable mattress with Coway's patented technology provides a better night sleep by detecting your body pressure and sleep position. Then it adjusts the mattress to the desired firmness level using air cells. This makes your mattress feel brand new and can keep you comfortable all night long.
Kwikset – New Biometric Smart Lock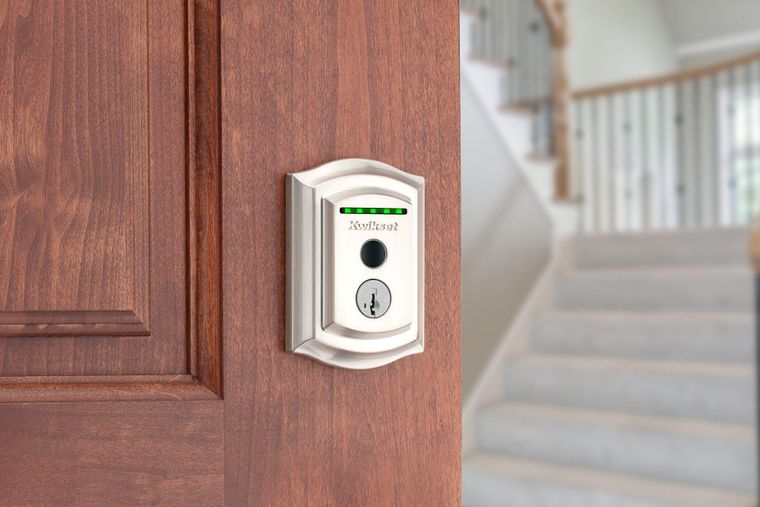 Kwikset Halo Touch Wi-Fi Smart Lock | Kwikset
SkyDrive Unveils Ultra-compact Emission-free Flying Vehicle - Are You Ready for One?


One thing we saw at this year's CES is technology we first learned about years ago is getting closer to market ready. We were introduced to the flying car concept at the 2020 CES Show. At this year's show, SkyDrive unveiled an ultra-light and compact flying vehicle, Model SD-03, that had completed testing for piloted flight.
SkyDrive's flying car is designed to vertically take off and land with superb stability and this emission-free electric vehicle enables fast and safe door-to-door transportation anywhere, including uses for emergency rescue. Model SD-05 is currently under development and eyed as an air taxi for World Expo 2025 in Osaka. SkyDrive recently advanced toward commercialization with the Japanese transportation ministry's acceptance of its type certificate application for SD-05 -- a major milestone that no other flying vehicle developers have reached in Japan.

Today with met with Haymaker, a company which focuses on manufacturing headphones. They are known as "The Haymaker" and their headphones and the case come packed with everything you need for the perfect sound experience no matter where you are or going. Their headphones come with a sleek black carbon fiber finish and are equipped with RGB LED lights which can be synchronized, Bluetooth 5.0, ANC and a bunch of cords (3.5mm auxiliary cord, universal micro-USB-C cord, carrying case, PC gaming controller adaptor, additional set of memory foam speaker pads and a quick start guide.).
What we like about these headphones is their compatibility with smart devices and desktop computers via Bluetooth and their custom tune with Dirac. They are available now on the company's website and Amazon for $329.95. Check them out if you want to know what the best sound experience sound likes on an over-the-ear headphone.
Eve Home Launches new MotionBlinds and Outdoor Camera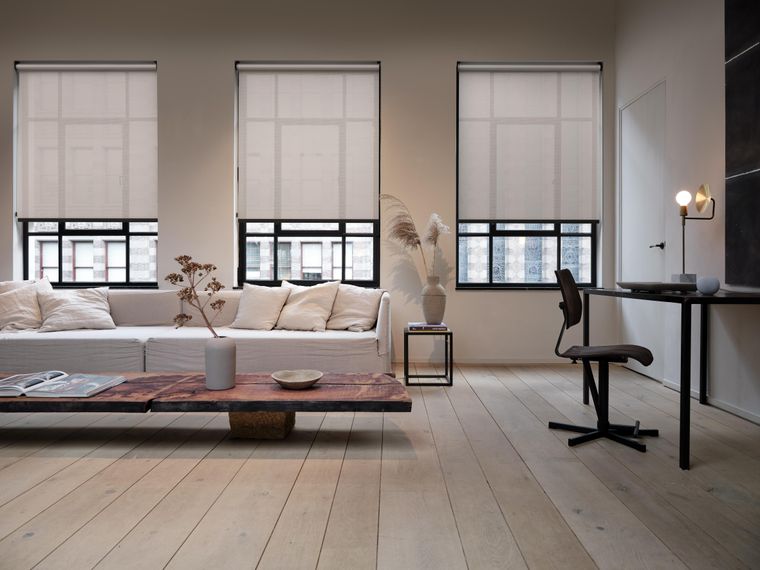 Eve MotionBlinds | Eve Home
Eve Home announced two new products that work with Apple HomeKit. One is their new of Eve MotionBlinds, the first connected blinds and shades motors in the market to support Thread. And the other was the Eve Outdoor Cam, the first ever floodlight camera designed exclusively for Apple HomeKit Secure Video.
Eve MotionBlinds will be distributed through a growing network of Coulisse resellers that are listed in the store locator on motionblinds.com/eve. Starting with custom roller shades, Eve MotionBlinds is currently already available at SelectBlinds.com (US), abcblinds.com.au (AU), OmniaBlinds.com, Sonevo.de and Smartblinds.com (EU). For Eve, already offering the largest portfolio of Thread-enabled HomeKit accessories today, adding Eve MotionBlinds as their tenth product featuring this technology marks a major milestone in the company's commitment to transition their low power product line to Thread.
Eve MotionBlinds will be distributed through a growing network of Coulisse resellers that are listed in the store locator on motionblinds.com/eve. Starting with custom roller shades, Eve MotionBlinds is currently already available at SelectBlinds.com (US), abcblinds.com.au (AU), OmniaBlinds.com, Sonevo.de and Smartblinds.com (EU). Pricing will vary based on fabrics, sizes and services chosen.
Eve MotionBlinds require an iPhone or iPad with the latest version of iOS/iPadOS. Controlling HomeKit-enabled accessories automatically and away from home requires a HomePod or an Apple TV (4th generation or later) as a home hub.
Eve Outdoor Cam is the latest smart home security devices announced at CES 2022. This is the first ever floodlight camera designed exclusively for Apple HomeKit Secure Video. Eve Outdoor Cam keeps a close eye on the home around the clock and protects the privacy of users' personal space in the process. Like all Eve devices, Eve Outdoor Cam is built from the ground up to keep data secure. Access to the cam, no matter if the connection is local or remote, is always direct and fully encrypted thanks to the home hub (Apple TV or HomePod). Live images never reach the cloud, not even iCloud. Recordings are stored securely and fully encrypted in your iCloud account. Eve Outdoor Cam is on display at CES 2022 and will be available beginning April 5, 2022, from Eve, Amazon and later from Apple at a price of USD $249.95.
Abode Expanding Ecosystem into Smart Lighting and Video Doorbell Space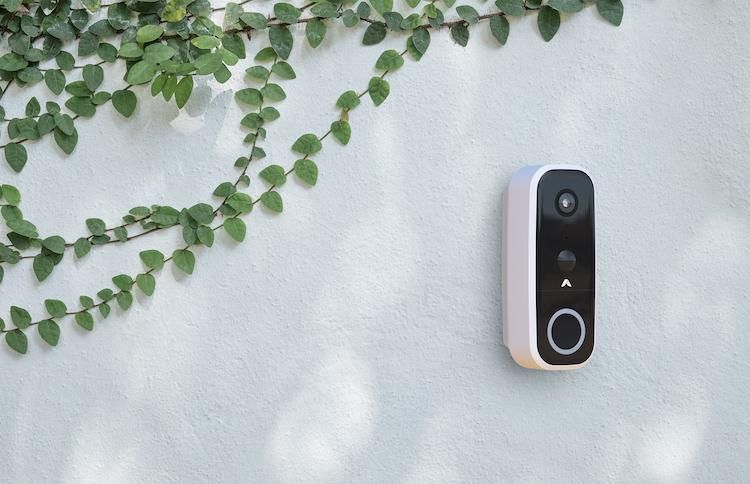 The New Abode Video Doorbell | Abode
One of the leading DIY smart home security companies is Abode. We have tested their systems over the years and have found them to be the perfect solution for homeowners looking for a powerful, easy to install smart home security system. At CES this year, the company announced two new products: the Abode Color Bulbs and Abode Wireless Video Doorbell.
The Abode Color Bulbs are affordable full color RGB smart lights with 800 lumens, work on a Wi-Fi connection and can be set up in minutes using a smartphone running the Abode app.
The full-color RGB bulbs are dimmable, feature a 90+ color rendering index, and have a wide color index range that can be tuned from warm white [1800K] to cool daylight [6500K] to unlock personalization and customization when it comes to lighting within the smart home.
The Abode Wireless Video Doorbell is a battery-powered video doorbell camera featuring a simple, wire-free installation process that can be completed in minutes. The compact, Wi-Fi enabled, HD 2K video doorbell camera features an IP65-rated weatherproof housing and mounts directly and securely to the door via the included, lockable installation bracket.
Once mounted, the Abode video doorbell can be leveraged for live-view and two-way communication with anyone at the door and has a tactile push-button for standard arrival notification. When upgraded with an Abode Standard or Pro plan, the wireless video doorbell is capable of recording video clips to the cloud if motion or a person is detected or record a short video clip when the doorbell is pushed.
The Abode Wireless Video Doorbell will quickly and easily synchronize with the companion Abode Chime. The doorbell camera and chime operate, in tandem, to create a dedicated wireless network connection for direct device-to-device communication. This mitigates connectivity issues and reduces interference caused by other wireless devices, thus ensuring more reliable video performance.
Designed to operate in extremely low light conditions, the Abode Wireless Video Doorbell includes a built-in Starlight sensor that enables full-color night vision capabilities for a crystal-clear video stream. Beyond standard motion detection, the doorbell camera supports Abode Smart Detect, an advanced video performance specification which notifies users if a person is detected. Package and pet detection will also be supported in future updates.
Both new Abode smart devices work with Amazon Alexa and Google Assistant. This means you can view a live stream from the Abode Wireless Video Doorbell on the smart display like Echo Show and use voice commands to turn Abode Color Bulbs on and off.
The Abode Wireless Video Doorbell is expected to ship in April 2022 with an MSRP of $79.99. The Abode Color Bulbs are available now and ship as a two-pack at a cost of $29.99.
Jasco Expanding into Wi-Fi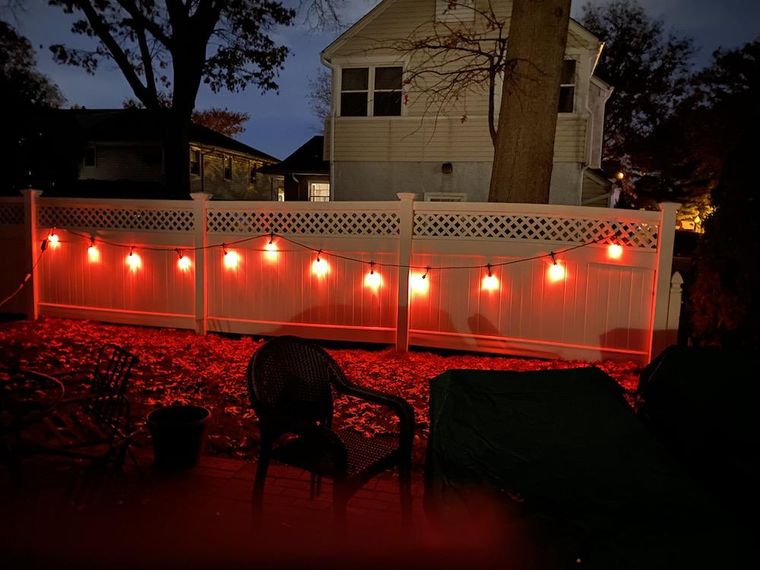 Jasco Enbrighten Smart Cafe Lights is the start of the company's expansion into Wi-Fi smart devices | GearBrain
Today we met with Jasco, a pioneering consumer electronics and lighting company. We have tested many of their products over the years and just recently put their new Smart Café Lights to the test. These smart café lights were the beginning of Jasco's Enbrighten smart product line expansion into the Wi-Fi space. Enbrighten's ecosystem is rather big and includes in-wall switches, bulbs, color changing lighting, and power products like extension cords and surge protectors. For 2022, you will be able to get Enbrighten products that work on a Z-Wave, Zigbee or Wi-Fi wireless connections.
Jasco's Enbrighten Wi-Fi products are available online at enbrightenwifi.com. Select products are also available nationwide at retail stores like Lowe's and Walmart. When making an Enbrighten purchase through the website, 50% of net proceeds are donated to charities that help humanitarian causes that change and save lives around the world.
Ossia Cota Power Table – A Wireless Charging Station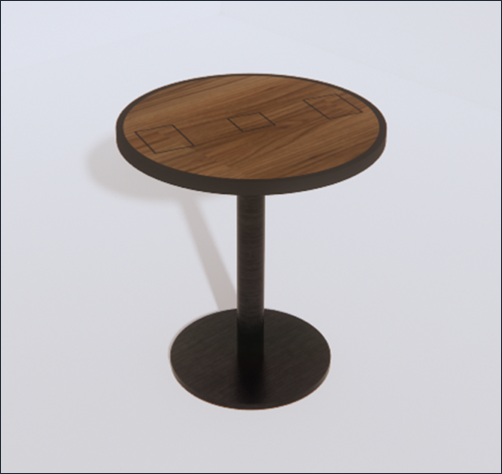 Ossia Cota Power Table is wire free and provides Qi compatible wireless charging | Ossia
If you ever went into a Starbucks and saw a table with wireless charging built-in, Ossia showcased a better solution for everyone. It's their new Cota Power Table which can receive and distribute power wirelessly. This first-of-its-kind power table is designed with hospitality businesses, such as hotels, airports, quick service restaurants, and coffee shops, in mind, and provides a flexible in-store experience for powering (or charging) multiple guest and employee devices simultaneously and eliminating competition for scarce outlets. There is no need for the table to be wired to wall sockets. It has the charging capabilities found in every IoT device through coils and ports.
The Cota Power Table is cord-free, which enables business owners and event planners to easily arrange and rearrange tables frequently. It receives its power wirelessly over air from a transmitter disguised as a ceiling tile and can deliver power to any device that has Qi built in. What's more, new building and interior designers do not need to plan for extensive wiring or outlets within their designs.
Regulatory approval for Cota products currently includes the US, Europe, Australia, New Zealand, and select countries in Latin America with more regions expected soon.
Lenovo Smart Clock Essential with Alexa Built-in


For all Amazon Alexa users who want a smart alarm clock that can function like an Echo Dot in your bedroom, Lenovo has the smart device for you. Following in the footsteps of Lenovo Smart Clock Essential with Google Assistant, Lenovo unveiled Lenovo Smart Clock Essential with Alexa Built-in at CES. We saw this new smart alarm clock first-hand and it looks like and functions just like it's Google Assistant version. The Lenovo Smart Clock Essential is the ultimate smart clock for any room with exciting features from Alexa to help you stay connected. You can set timers, alarms and reminders with ease. Alexa can help add items to your Amazon cart and even control your smart home with just your voice if these devices are compatible. The smart alarm clock can function like a smart speaker. Just connect it to your home Wi-Fi network, download the Alexa App. Then you can start playing music through the 3W full range speaker.
The Lenovo Smart Clock Essential can also be paired with Lenovo's Wireless Charging Dock with Night Light and the company's new Ambient Light Dock. The new Ambient Light Dock has a nightlight on the clock's base to provide ambient light in the room with eight lighting modes, such as solid colors like cherry and ocean blue, warm sunset tones, gorgeous rainbow light, as well as rhythmic motion lighting with colors fading in and out for a moment of Zen. To choose your favorite light setting, either double tap the top of the Smart Clock Essential with Alexa Built-in to cycle through the choices, change ambient light settings via voice command or by using the Alexa app.
The Lenovo Smart Clock Essential with Alexa Built-in is available in January 2022, starting at $59.99. The Lenovo Ambient Light Dock Lenovo Ambient Light Dock is expected to be available starting in Q1 2022 and will start at $29.99. Lenovo Wireless Charging Dock with Night Light is available now (compatible with the Lenovo Smart Clock 2).
Matter Movement – A New Standard Coming in 2022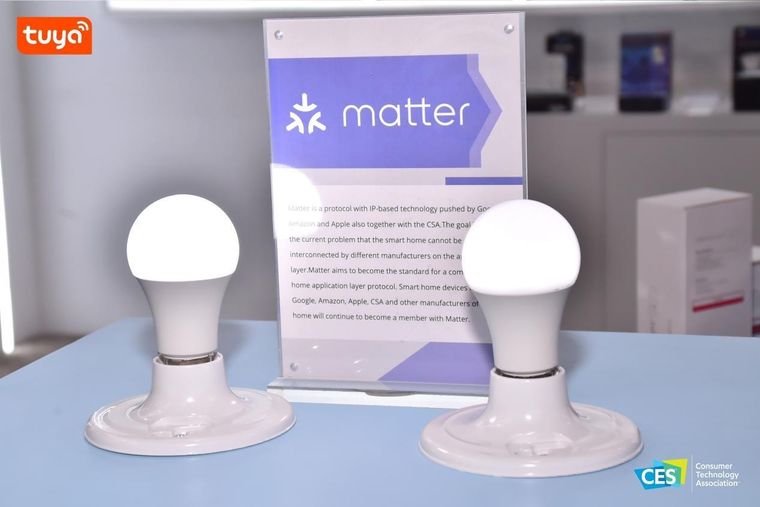 Tuya is one of the latest companies to announce their support of Matter | Tuya
For those of you who haven't heard of Matter, it's the unified, IP-based connectivity protocol that will be used to connect smart home and Internet of Things (IoT) devices. It will act as a seal of approval to help buyers of IoT, or smart devices know that what they are buying is secure and reliable. The Connectivity Standards Alliance (CSA) is an organization of hundreds of companies creating and maintaining global standards for IoT devices and networks.
At CES this year, we saw many companies either promote their commitment to Matter or announce they will be supporting the new wireless standard in 2022. The companies involved with the Matter networking standard include Apple, Amazon, Google, Comcast, Eve, Huawei, Nanoleaf, Schlage, Signify, SmartThings and Somfy, among others. At this year's CES, Yale and Tuya were promoting their commitment to Matter.
GearBrain will keep you informed on when Matter certified smart devices will be available for purchase. Many expect these new certified devices are expected to arrive before the end of 2021, and these are likely to include smart lighting and accessories, HVAC controls, access controls like door locks and garage door openers, safety and security systems, window coverings and shades, smart televisions, access points and networking bridges.
For now, if you need help in finding any smart device or ones compatible with your existing connected products, use The GearBrain. Our smart home compatibility find engine is free and easy to use. It will help you find, buy and connect with any smart device including Google Assistant and Amazon Alexa enabled devices.
The GearBrain, First Compatibility Find Engine for Smart Devices | YouTube