The decade of wireless power is upon us, with Ossia offering technologies that can deliver power wirelessly, within retail settings, with award-winning charging tables, through next-gen graphical price tags, IoT devices, consumer electronics and more.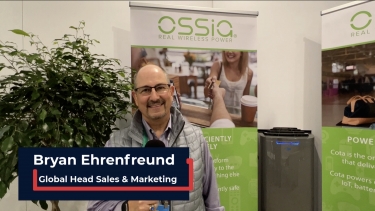 Ossia. This multi-award winning wireless power company was founded in 2008 by physicist and technologist Hatem Zeine, with the technology developed in stealth mode until its first public reveal at TechCrunch Disrupt 2013.
The company says it is "challenging people's core assumptions about what is possible with wireless power," and that its "Cota technology redefines wireless power by safely delivering targeted energy to devices at a distance."
Further, the company says its patented RF smart antenna technology "automatically keeps multiple devices charged without any user intervention, enabling an efficient and truly wire-free, powered-up world, that is always on and always connected," and that the Cota technology "does not involve pads or other induction or contact-based charging."
iTWire first encountered Ossia in November 2015, when we video interviewed a now former Ossia executive, with that video embedded into an article titled: "VIDEO Interview: Welcome to the age of Ossia's true wireless charging," but in the 7 years since, Ossia has made great strides, winning multiple awards, launching 8 products, and even late last year on 7 December 2021, achieved Australian and NZ regulatory approval.
However, when I saw Ossia's stand at CES 2022, I definitely wanted to talk to the company to find out what had transpired since we last spoke, so I spoke with Ossia's Bryan Ehrenfreund, its global head of sales and marketing, to learn more - with plenty more information about Ossia thereafter, so please read on!
Naturally, the allure of wireless power is simple - you can have devices that can always be charged when you're in range of your wireless charger, whether at home or the office, or anywhere the technology is available. Your device could also come with no batteries at all, instead using super capacitors, if it is in a fixed position or always staying in a particular area, which means no cords or cables to plug in, trip over, need to hide or worry about.
While phones, tablets, computers and electronics at retail still aren't being built with this kind of "over-the-air" wireless charging capability as standard, it's only a matter of time before they come, especially given the examples of consumer, retail and IoT devices you'll see in the video above.
Ossia also won its 5th CES award with its new Cota Power Table, which is now available for purchase globally in over 40 countries where Ossia has gained regulatory approval.
The table is a "first-of-its-kind", and it "brings power to device users without running wires to wall sockets by sending power over the air to tables containing charging equipment - and you can see the table in the video above.
"The Cota Power Table does not need to be wired to wall sockets yet embeds charging capabilities found in every IoT device through coils or ports. The Cota Power Table was designed with hospitality businesses, such as hotels, airports, quick service restaurants, and coffee shops, in mind, and provides a flexible in-store experience for powering (or charging) multiple guest and employee devices simultaneously and eliminating competition for scarce outlets."
Hatem Zeine, Ossia's Founder and President said: "People who often travel stress about battery power levels, especially when they are in an unfamiliar location. The Cota Power Table brings power charging capabilities to their fingertips without running wires that can be very difficult or prohibitively expensive.
"The Power Table design provides a convenient service, comfortably, while eliminating the hassle of finding an available outlet and being tethered to it while their devices charge. The Cota Power Table offers establishments unprecedented freedom in the placement and mobility of their in-store assets by accommodating for tables to be movable anywhere in proximity of a Cota Transmitter."
The Cota Power Table is cord-free, which enables business owners and event planners to easily arrange and rearrange tables frequently. It receives its power wirelessly over air from a transmitter disguised as a ceiling tile and can deliver power to any device that has Qi built in. What's more, new building and interior designers do not need to plan for extensive wiring or outlets within their designs.
"The Cota Power Table expedites wireless power adoption. It gives businesses the opportunity to offer wireless power now to smart devices that are already in people's pockets, without the wait for consumer product evolution," said Zeine.
Doug Stovall, Ossia's CEO said: "This marks the 8th product Ossia has announced with partners coming to market in the last 10 months," says .
"Cota-enabled devices ranging from wirelessly powered asset trackers to consumer IoT devices, the market is catching up with the global demand for wirelessly powered products. Again and again, Ossia is being selected as not only best in class, but the only wireless power technology that can accommodate multiple use cases and is safe in crowded environments."
There were a range of wireless power companies on display at CES, with Energous a well-known competitor, and iTWire caught up with its CEO Cesar Johnston and its VP of Marketing, Gordon Bell, in two separate video interviews which will you can watch here.
Either way - the claim that the wireless power revolution being finally upon is has come true at long last - the technology has been invented and refined, and now it is in the process of being widely distributed across industry, retail, offices and homes.
It will certainly be fascinating to watch this now start more rapidly unfolding, with the children and grandchildren of the future perhaps only knowing the umbilical cable as the only corded thing left on the planet. We're not quite there yet, but wireless power is charging ahead as never before, and it is definitely an electrifyingly great time to be alive!
There's also a great article from CNET titled "Long-distance wireless charging could power your smart home" that looked at Ossia, Energous and other wireless power companies, so the revolution is real, and this is the decade we'll really see it in action.