Don't have a year for development or extra engineering resources to prove that wireless power is the future for your battery powered device?   The solution is to leverage Ossia's years of industry leading experience to rapidly integrate wireless power in only 1 day.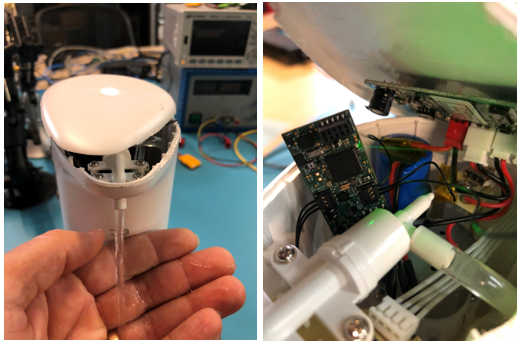 As a product person at Ossia, I constantly get asked, is wireless power real? The simple answer is yes, and we can prove it. To show how easy it is, I decided to do an internal test in our lab. For the record, I am not an engineer or technician. I'm a guy who wanted to see how easy or difficult it would be to hack a common household product with our wireless power circuit board.
Let's back up though. A simple fact is the number of everyday devices that contain 3.7 volt batteries continues to grow exponentially. Problem is they need to be replaced or recharged frequently. Knowing that wireless power is a real thing; what if I didn't have to replace or recharge those device batteries anymore? Instead, what if I integrated a Cota wireless power circuit board into some products and proved with the transmitter in the office that it worked?
With this in mind, I set out to test how easy or difficult it would be to hack our office's battery-operated touchless hand sanitizer station. You know the one that is operated with a motion sensor. They are a common element in all offices, grocery stores, retail stores, the movie theater; you get it they are everywhere!
To get started I bought a basic hand sanitizer from the biggest online retailer in the world and cut the top off to expose the motherboard and battery connection. I literally sawed the top off through the plastic because it was sealed pretty tight. It wasn't pretty but it worked. Then I pulled the battery out, cut the two battery connecting wires and soldered the supplied Molex connections in between the device and the battery. Once that was done, I plugged in the Molex connections and one of the supplied 2.4GHz antennas into our Cota Quick Receiver (QRx) and that was it. Power on! In four simple steps, wireless power was automatically received from the Cota Transmitter and the hand sanitizer was operational again. If it weren't for the obvious hack job on the plastic housing, you would have never noticed anything had changed.
My team was so excited about this quick integration, that we were like if I can do it, anyone can do it. I then did a three-minute demonstration of this solution for everyone that was in the office and sparks flew. While we at Ossia are familiar with proof of concepts, to see it demonstrated so easily and almost effortlessly was a gamechanger. To put this in perspective this could not only save months and years of engineering development times, but it could also be a major cost savings solution as well. Ossia produces the receiver board assembly and our partners integrate them into their products. In the most basic sense, we've simplified the process of providing wireless power and allowed for innovative early adopters to rapidly run their own proof of concepts. The sky's the limit and now partners can increase their speed to market.
Do you have a device that could benefit from Real Wireless Power over air and at a distance? Ossia is providing a complete QRx kit with simple step by step instructions for companies that are ready to jump-start the next generation of their development process. We have a limited number of these systems available now for evaluation. If interested contact us today for more information.
Benefits of creating your own PoC's with Cota QRx:
Demonstrate that wireless power is a viable option for your devices

Leap miles ahead of the competitor by getting a wirelessly powered device to market

Save development time and money integrating new wireless power technologies

Get ahead quick without a full team of electrical engineers

Deliver customer value to your customers by solving power problems and battery anxiety

Prove out wireless power as a platform inside your business and quickly ramp up multiple teams/products
Cota 2.4GHz QRx specifications:
The receiver footprint is compact 18mm x 40mm

Compact U.FL-R-SMT(10) antenna connector for 2.4GHz 50ohm external antenna

Runs on latest version of the Cota Power Standard

Designed to deliver power to 3.7v LiPo or Lion battery

Power out to battery/device via supplied Molex connector #78172-0003
Steps to rapidly integrate a device with wireless power:
Open up the device to expose the battery and battery connection

First cut the wires to the batteries (or use supplied adapter cable)

Solder both sides of the cut wires to the supplied connectors

Attach the QRx to the connectors and antenna

Voila! It's now real. A wirelessly powered 3.7 volt device.
It's fair to say, the Ossia product team is so excited about this simple proof of concept that we are already planning our next product "hack-athon" soon. We invite you to stay tuned and follow along. Which mystery product will we hack next? Stay connected to find out.
Related stories from Ossia
How Far Can We Take Wireless Power Transfer Technology?
Ossia and Molex Collaborate on Wireless Power
Ossia & Molex Team on Next-Generation Power at a Distance
The Evolution of the Cota Technology Through Partnership