Toyoda Gosei (TG) is partnering with US company Ossia Inc. for commercial applications of next-generation wireless power technology that employs microwaves. TG invested in Ossia in September 2019 as one of our corporate venture capital investments, and recently concluded a joint development agreement. With a view to improving vehicle cabin comfort and use in smart cities, we are working with Ossia to develop products that can power multiple devices simultaneously at distances of 5 to 10 meters using microwaves. As external environments undergo great changes with advances in CASE, Maas, and smart cities, TG is putting increasing focus on the creation of new businesses and the development of new CASE or Maas compliant products that leverage our core technologies and external knowledge to achieve sustainable growth of the company. As one part of this, we began developing wireless power technologies in 2014. In 2019 we launched an LED illuminated air conditioner register in which the LED lights are powered wirelessly. Based on that knowledge, and utilizing the technology of Ossia that can power multiple devices simultaneously over distances of several meters with microwaves, the Technical Planning Division and Corporate Planning Division Corporate Venture Capital Dept. are working together on solutions planning and elemental development for new "seamless" value creation with an eye toward to future social issues.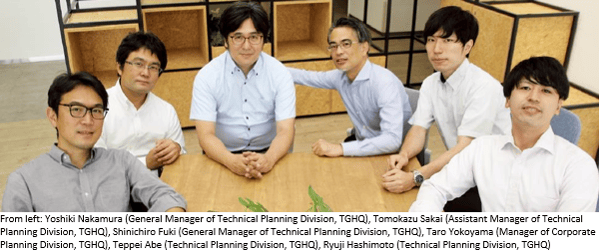 "Taking advantage of our venture investment framework, we are building partnerships with a global outlook. We are taking on the challenge of creating human-centric value with a vision of future society," said, Daiichiro Kawashima (Deputy Chief of Product Planning Center and Technical Planning Division.
Future Living with Cota Real Wireless Power: Example of Seamless Society

MaaS (Mobility as a Service) and LaaS (Living as a Service)
Smart phones and wearable devices can be powered without wires in settings such as vehicle cabins and living rooms. The major feature of this technology is that power can be supplied efficiently and safely with directional microwaves and power transmission to receiving devices (radio waves reflect off ceilings and walls).