Originally posted by Zoe Branch in 425Business
Imagine a world where electronic devices are always charging and where batteries never need replacing. That's the vision of physicist and technologist Hatem Zeine, who in 2008 chose Bellevue as the place to plant his startup roots and found the company Ossia to change the way we use technology.
Since then, Zeine has recruited a steadily growing team of talented engineers and technologists, many of whom came to Bellevue from Silicon Valley, New York, Chicago, and Boston to work at Ossia, which is now a globally recognized company with 60 employees. Together, the Ossia team has developed a technology invented by Zeine called Cota, which can safely charge multiple electronic devices within a 30-to-40-foot range.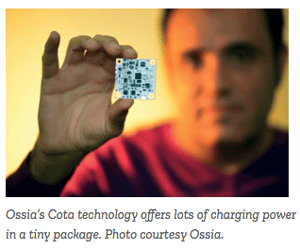 "This is the kind of technology that can enhance user experience and ultimately change the world," Obeidat said. "We're the only company that can power multiple devices at a long distance and through obstacles. You don't need direct line of sight, even when a device is on the move. If it's in your pocket and you're moving with it, Cota technology has the capability to continually track the device. No one else in the world has been able to do that."
The technology currently exists and works well and safely enough to have earned the company a CES Innovation Award, awarded by the Consumer Technology Association, for the last three years in a row, said Obeidat.
Because digital devices don't yet have Cota receivers built in, a phone has to be plugged into a small box in order to communicate with the Cota transmitter. This, however, is not the product that Ossia plans to release to consumers.
"We partner with other companies that make products to incorporate our technology into their devices," Obeidat said. "We want this integration so that (the charging process) is seamless, sleek, small. The technology is ready; we have some optimization and some improvements that we continue to do. Our plan is to have it on the market next year for some form of consumer application."
"Think about the growing number of low-power devices in the home and all the batteries that are used for those," said Obeidat. "To think that we're just going to keep putting more and more chemicals from batteries into the environment is problematic. Beyond the home, when you think about factory automation, or in retail, there are so many batteries, and they have to be changed constantly. The environmental impact of batteries is terrifying." The Forever Battery, however, could disrupt this cycle, and if Cota technology becomes mainstream, it has the potential to do away with battery waste in the long-run, said Obeidat.
Also promising is Ossia's joint venture with Motherson, a $10 billion automotive manufacturer that focuses on wire harnessing and components that go into the dashboard of a vehicle. Motherson's automotive knowledge coupled with Ossia's Cota technology have spurred a new company, Motherson Ossia, that is dedicated to putting wireless power into cars so that people can charge devices in the cabin.
The possibilities for Cota technology, Obeidat said, are endless. The company promises upcoming announcements about partnerships with big tech companies as it moves toward its goal to release a product for consumers.
In the meantime, founder Zeine, who moved from CEO to CTO a couple years ago to have more time to focus on inventing, is already thinking five to 10 years down the line about other applications and approaches for his technology.
"We can't talk about it because it sounds too unbelievable," laughed Obeidat. "It sounds like science fiction."
For now, we'll just have to keep an eye on Ossia and, next year, on the market for a product that promises safe and effective wireless power.