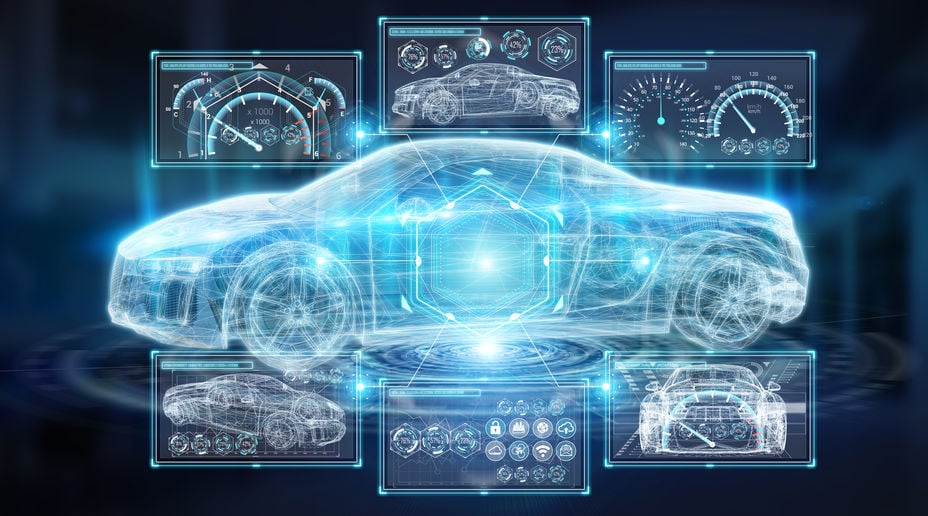 It is clear that the next big leap in technology advancement is real wireless power at a distance. We're already seeing it reach small devices and IoT, and this will soon have huge impact on the way we deploy and use devices and sensors at home, at work, in public spaces, and also in cars and buses.
Imagining the use of devices and IoT in living and work spaces is easy. But what about when we're on the move? Will wireless power in vehicles be limited to passengers' phones and wearables?
Of course not. Leveraging wireless power to run automotive electronics is a natural progression of the technology, and appears to be a much needed advancement as the demand for automotive sensors and other car features skyrockets.
Powering Up Automotive Electronics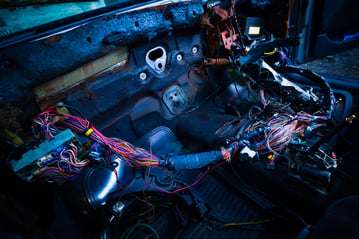 In today's modern cars, you'll find hundreds of electronic devices throughout the vehicle. These include sensors (temperature, motion, fluid levels, and occupancy), and actuators (door locks) and low-power lighting (in-cabin light and various indicators).
Amazingly, each and every one of these sensors today is connected via a dedicated wire to a central power and control source: the vehicle's wiring harness.
Limitations of a Vehicle's Wiring Harness
After body and engine, the wiring harness is the third heaviest component of a car.
In some vehicles, the wiring harness is more than 200 pounds. But weight is only the start of the challenges of requiring a wiring harness:
Complex build process: Wiring harnesses must accommodate for the car's specific features, for example: power seats, heated mirrors, and door lock buttons on rear doors, which makes the manufacturing process more complex. Also, the more complex the wiring harness, the more likely a customer will have trouble with the car.
Custom design costs: Wiring harnesses come in thousands of varieties to accommodate these features. Designing the wiring harness, how it is installed, and installation adds costs to the car.
Difficulty to scale: If the trends of sensor growth carry over to cars and trucks, we will need even more complex wiring harnesses to accommodate for all the sensors.
Aftermarket devices: To add a powered device after purchase, drivers and passengers have to remember the right charging cords to plug into the cigarette lighter, a regular 110V, or a USB outlet.
Now, imagine if this complex, heavy, limited wiring system wasn't needed.
That's where wireless power for automotive comes in.
Wireless Power for Automotive
To help solve the wiring harness limitations, Ossia is making CotaⓇ Real Wireless PowerTM technology available to automotive manufacturers. Cota is an ideal solution, because:
Cota is the only non-line-of-sight wireless power technology that can safely service the whole car cabin full of passengers and their devices, without plugging in.
The Cota transmitter is flexible on size, location and shape, and can be integrated without changing the way the vehicle looks.
The transmitter can be built into the dashboard, ceiling, doors, and/or on panel surfaces.
No end device batteries or wiring required.
You might wonder if the currently popular Qi wireless charging method can achieve all this; and the answer is, No. Qi is more of a complement to real wireless power for personal devices, and would require wires leading to every device and sensor; taking us back to where we started.
Automotive Wireless Power Versus Wireless Charging
It's important to understand the difference between wireless power at a distance, like Cota, and wireless charging, like Qi.
We are familiar with wireless charging, like when we use a Qi charging pad with our smartphones.
Charging works for devices that have a battery to hold the charge, and we know batteries are not an ideal long-term solution for vehicles. They're expensive, they need to be replaced frequently, and they don't always do well with extreme weather.
Real wireless power, on the other hand, doesn't require a battery. Cota can power every sensor, actuator, and lighting in a vehicle with capacitors instead of batteries, this is critical, since cars have a longevity life far greater than today's batteries, let alone battery reliability.
At the same time Cota is powering car systems, it can also power personal devices in the vehicles, such as smartphones and wearables, dash cameras, and kids' toys and iPads. No charging pads required.
Life Just Keeps Getting Better with Wireless Power
Our daily lives are getting a huge upgrade with wireless power, and our vehicles' cabins are no exception. In fact, we expect to see electric vehicles charge their large batteries with wireless power in the near future. Wireless power for all vehicle cabins and automotive electronics is the next natural step.