It has already begun. Real wireless power is being researched, developed, and is about to be deployed by manufacturers and brands alike. Soon it will be as ubiquitous as Wi-Fi and traditional outlets. And once that happens, the potential of the Internet of Things (IoT) will skyrocket in ways we cannot yet imagine.
The benefits of real wireless power are not limited to eliminating cables, wiring, and charging pads. We also need to manage the power and charging needs of these devices to more effectively and efficiently power the world.
We're not the only ones who are thinking this way. The IEEE, the world's largest technical professional organization dedicated to advancing technology for the benefit of humanity, says "wireless power transmission is a fundamental enabling technology of the Internet of Things concept, as well as machine-to-machine communications, [because] it minimizes the use of batteries and eliminates wired power connections."[1]
Also, Sussex Research states that wireless power "has proven to be one of the most promising solutions [for the needs of IoT] by virtue of its simplicity, ease of implementation and availability[2]
Let's take a look at a few reasons why wireless power is so important to the future viability of IoT.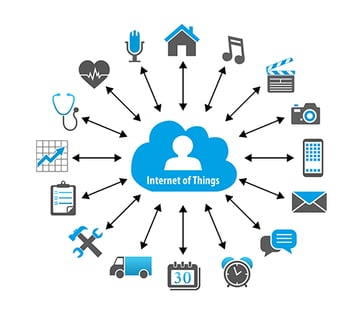 Performance
When wireless power is capable of delivering a few watts of power to a device for 24 hours a day, the device will be able to act at a much higher performance than ever before. Relying on traditional batteries is a limitation in more ways than one. They have a limited lifespan and "require a fast charge time to achieve continuous operation."[3] This is simply not sustainable for the growth of IoT.
Today, we have video door bells that capture activity of the front/back door by recording video and passing it to a smartphone app. Battery powered door bells force the home owner to take them down regularly to charge them, making them a hassle when people forget or travel on vacation for many days. Also, battery powered devices are designed to consume less power thus having less functionality to have power be available for longer periods of time.
Personalization
When every device can detect our behaviors, securely communicate with you and offer personalized services everywhere, we will have less dependence on our phones and more on the "ambient computing" environment we are entering.
At some point, we will seamlessly interact with the machines embedded in the things around us without thinking about it, without needing to search or type, and without needing to give it context, such as location, time of day, or even physical effort level. Machines will "learn" from our behaviors, and adjust to suit our needs. You'll see early examples of this type of "brain-machine interface" and advanced human-like AI in objects like Amazon Echo and Alexa, Google Home, and Microsoft's Cortana, as well as Siri within Apple products.
Embedded IoT Connectivity
Continuous wireless power within the home, transportation, work, and activities enables continuous "communication, interaction, and information access to be embedded into anything."[4] Embedded IoT connectivity allows for a network of communication among objects, people, and the Internet, which can enable services and insights never thought possible before.
Developer and Designer Friendly
Traditional wired and battery power requirements force IoT designers to compromise on the computing power of the CPU, the size of the RAM, the communication speed as well as the up time of the OS. Like Wi-Fi, once wireless power is more readily available to designers and developers, objects will no longer need to carry such large batteries to ensure performance.
Imagine the transformation wireless power will bring to things like surveillance cameras, smoke detectors, remote control systems, thermostats, and home locking systems. On the flip side, imagine all the objects in your home that are not "smart" objects, but could turn into something more useful and informative with continuous power, like kitchen gadgets, lights, music, and scales. People will soon be able to track, monitor, be informed about, and control just about any aspect of their lives, from nutrition to health to entertainment. All thanks to the integration of wireless power into IoT.
No Consumer Upkeep Required
What is the definition of Internet of Things? They are "everyday physical objects, each provided with unique identifiers … connected to the Internet without requiring human interaction," according to Sussex Research Online. In order for the IoT to be a useful part of our lives, these objects will need to self-operate sustainably for the long term by receiving energy from ambient sources -- with no human upkeep required.
The benefits of developing everyday objects with a sustainable automatic energy solution built in are endless, and are destined to improve the quality of life -- as well as change lives -- for people and professionals in many industries. Automotive, healthcare, monitoring and surveillance, alarm systems, thermostats, computing, scanners, and appliances are just a few of the objects that are already being transformed by wireless power.
Sources:
Image: "Summary Brief: IoT From the Beginning" by YDT
https://readwrite.com/2016/10/07/5-iot-innovations-cant-advance-without-wireless-power-pl1/
[1] http://ieeexplore.ieee.org/stamp/stamp.jsp?arnumber=6734736
[2] http://sro.sussex.ac.uk/53407/1/COMM_MAG_WEH.pdf
[3] http://ieeexplore.ieee.org/stamp/stamp.jsp?arnumber=6734736
[4] http://materials.dagstuhl.de/files/17/17161/17161.AlbrechtSchmidt1.Preprint.pdf