In the US, the mandate to quarantine began on March 16, 2020. That shifted many businesses, including ours, at Ossia, to optimize a different way of working. It was an interesting time, as we were just coming off the commercial frenzy generated at CES 2020 and in the middle of some very large negotiations to build the Cota Real Wireless Power ecosystem.
In a way, it felt like life ground to a halt in March 2020. People dramatically shifted their daily activities and had to learn news ways of working from home, with other family members and children in the background. There have been many memes about how 2020 has been a 'palm-to-forehead' year as the COVID-19 pandemic persists, news media continues to share stories of civil unrest in the US, wildfires are burning in many states across the country as others are dealing with massive hurricanes. Socially, it has been challenging keeping up relations with family and friends as many are experiencing extreme video-call fatigue and just trying to keep the wheels on the bus, so-to-speak.
But, before we allow ourselves to get pulled into the haze of 2020 negativity, in looking at the last 6 months, Ossia has actually had a banner year thus far. It is remarkable to look back to see, holistically, how many news deals have been signed, how several companies have pushed forward with roadmaps including wireless power, how many players have joined the Ossia Preferred Partner Program and made strategic investments in the company. These deals not only showcase the continued momentum of the ground-breaking technology that is Cota Real Wireless Power, but give validity to what you have heard us shouting for the past few years—Cota Real Wireless Power is becoming the global standard for wireless power at a distance.
It is also important to note, that not only has Ossia seen incredible momentum over the past few months, 4 of the 6 companies announced are category leaders in their markets, representing the largest, most prestigious companies in the world. Over the past 18 months, Ossia has signed deals with eight category leaders. These companies are the #1 largest, most profitable companies in their respective industries. This validation further fuels the assertions of Ossia securing earning the category leader title for wireless power.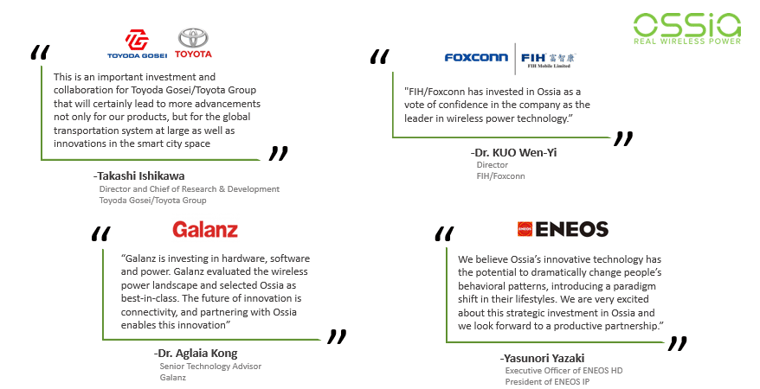 Let's get a snapshot of Ossia: The Last 6 Months: 6 Major Deals
Wow! In the last six months widely considered to be some of the toughest months in modern era, Ossia has announced six major deals with some of the largest companies in the world. Don't be fooled by the day-to-day challenges of WFH (work from home), or the dramatic national and international news, Ossia is driving forward with unprecedented power.
Join the Ossia ecosystem now! Let's build life-changing technology together using Cota Real Wireless Power!